Young Astronomers Meeting in El Bolsón

See map
In El Bolsón was performed for the first time the Young Astronomers Meeting in October 2009. This promising event is a great success and has become an activity highly anticipated by fans of astronomy.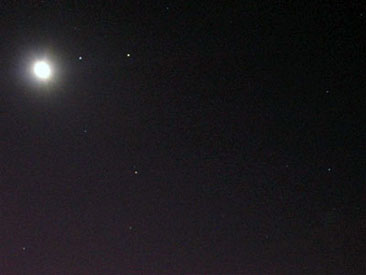 Conjunction Moon - Regulus (Leo star) - Saturno - photo courtesy of www.astronomiabolson.com.ar
It is organized by the Astronomical Osiris Group of El Bolson, who also have the support of the Ministry of Education of the Río Negro Province, the YPF Foundation and the Institute of Continuing Teacher Education of El Bolson. The meeting was declared of Cultural Interest by the Municipal and City Council of El Bolson.
The date of first meeting coincided with the commemoration of International Year of Astronomy and the celebration of 5 years of Osiris Astronomical Group.
This group consists of students and middle-level teachers who specialize in organizing educational and outreach activities in astronomy aimed to schoolchildren and the general public.
Activities are carried out for different audiences and cover different aspects of astronomy and its teaching. Among those mentioned:
Jupiter: photo taken by a Canon A510 digital camera using a Meade telescope Schmidt type.

Talks by prosessional and amateurs astronomers about different subjects.
Workshops on different aspects: the origin of the universe, recent discoveries, everyday phenomena, using the telescope, use of computer programs and more.
Panels and workshops for teachers related to the teaching of astronomy in schools.
Sky watching activities both day and night.
Planetary.
Films and documentaries.
There are also talks and activities related to knowledge of the natural environment El Bolsón can provide.
The speakers and workshop are senior figures in the field of science and astronomy, but attendees can also dump productions or expose work done prior to the event.
Spurce and photos: Diego Galperin, Astronomical Osiris Group coordinator www.astronomiabolson.com.ar