El Cóndor: Gateway to beaches of Patagonia

See map
The resort El Cóndor is located 30 kilometers from the city of Viedma, capital of the province of Río Negro and it is the portal of entry into the Atlantic Patagonia and starting point of the called Route of the Cliffs. The place is accessed by a paved road in excellent condition.
The resort village is situated on the south bank of the mouth of Negro River, is bordered by the Atlantic Ocean and due to its location is known as "La Boca".
It has all the basic services for visitors to enjoy a pleasant stay, such as campsites, hotels, apartments to rent, restaurants, grocery, first aid room, public toilets in the waterfront, parlor, gas station, chapel, terminal bus and police station. During the summer season there is good nightlife with several pubs, a disco and a casino that offers music shows and places to dance.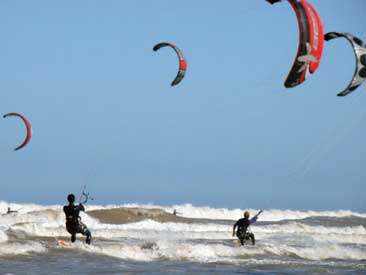 Kite practice on the shores of resort El Cóndor.
Traditionally, in February is performed the Sea and Campers Festival, that year after year offers recreational activities and the expected election of the queen of the festival by local youth.
It has a long stretch of beaches where you can perform a variety of recreational activities and fishing. It highlights the one located at the beginning of the cliffs, known as Lighthouse Beach, which allows the entry of cars. Two kilometers from this one is the second descent, which has parking, restrooms and a bakery.
There are several campings that are home during the summer to the more adventurous. Major infrastructure works, as its wide paved waterfront or casino, restaurants, bars, nightclubs, gym sports and variety of tourist trades for added convenience to the natural charms of the Costa Atlantica.
In the resort El Cóndor lovers of windsurfing, sandboarding, fourtrax, motocross, beach volleyball, beach handball, windskate, photographic safari, watching marine mammals and all other sports and recreational activities that the family want will find their space to delight. The fishermen fans can have their passion in the areas of El Pescadero and Los Pozones or move a few kilometers to Playa Bonita.
This tourist village was born spontaneously by the concerns of the neighbors of Viedma and Patagones, who built their summer and weekend homes. In recent years the resort has evolved significantly to increase greatly the amount of construction works and have added the essential works for their development, such as the recent paving and remodeling of the waterfront.