Popular Filleted and Fried Food in the Patagonia

See map
The town of Playas Doradas prepares for Easter differently. Since 2009 the city develops a festival on Holy Friday, where residents and visitors enjoy a great Filleted and Fried Food.
This activity is organized by the Municipality of Sierra Grande and has the support of the Ministry of Production through the Ministry of Fisheries of the province and it is sponsored by the provincial Ministry of Tourism, which broadcasts the event as a Regional event. In this way, you get a variety of local fish that the fileters comment while performing the work.
This activity is one of the identifying features of the resort of Sierra Grande. The familiarity and hospitality of the party invites neighbors, service providers and tourists to enjoy a unique event in Patagonia.
In Holy Friday is carried out the free lunch to all who are in the locality. Once the fish filets are accumulated, neighbors and providers put them on disks to fry, turning the art of filleting a "Great Fried Food".
In addition, we must highlight the work of two professionals fileters in the city, Nora and Willy, who every year surprised the audience with their skill, and of two neighbors, Rodolfo and Nancy, that by their own initiative prepare sushi for all attendees to the big party.
On Holy Saturday the local Sports Department proposes a fishing tournament in collaboration with Coopesal. The registration itself is $30 per person and prizes are in cash and fishing articles. That day also can enjoy a paella at a price of $15 per plate (argentinean currency).
For more information on both events contact the Sports Department of Sierra Grande to (02920) 15479690 and the Ministry of Tourism to the phones (02934) 481868 - (02920) 15525242 or via email to turismosg@yahoo.com.ar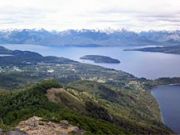 Villa la Angostura
Disfruta del paraíso natural en la Patagonia Argentina, al pie de la cordillera, entre lagos, rios y bosques, tan solo a 70 kms de la ciudad de Bariloche....
Oferta desde $7.400