Puerto San Julián

See map
It is true that in Santa Cruz lies the history and live the nature. There is data that confirms this: in 1519, colonial times, the Navy Magellan made landfall in what would become the scene of decisive historical events that marked the fate of the expedition, Puerto San Julián.
At that time the first Mass was held on national territory, sufficient reason for that in 1943 the site was declared historic. The city is located just three kilometers from National Route 3, at 350 km south of Caleta Olivia and 360 km north of Río Gallegos, capital of the province of Santa Cruz.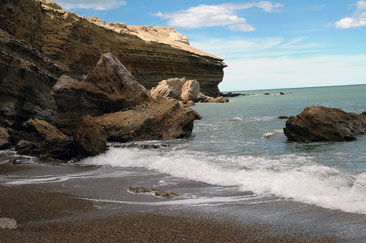 The cliffs are the typical landscape of the coast of Puerto San Julian.
Puerto San Julián, of about 7000 inhabitants, is located in a picturesque bay between Cape Curioso and Punta Desengaño and is an ideal place to meet, relax and enjoy being in the Atlantic coast.
Its arid climate, typical Patagonian, the contact with nature, the testimony of the past in cave paintings are still preserved, the existence of protected areas with endemic species unique in the world make a paradise of Puerto San Julian in the vastness of Patagonia.
The geography of the area consists of Tertiary marine sedimentary rocks, crowned by Patagonian boulders, gently rolling hills and cliffs above the sea, with heights between 15 and 70 meters. Besides the tides reach nine meters producing strong changes in the coastal landscape in a few hours.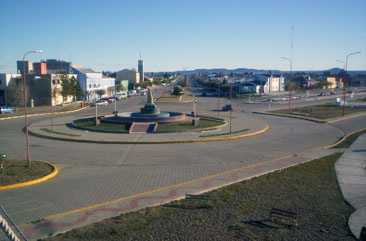 View of the town of Puerto San Julián.
The city is situated on a gentle slope leading down to the bay, it is bordered by two major avenues that intersect themselves and it reflects the various waves of immigration that populated the site by its architecture, as Anglo-Saxon influences and constructions ranging from 1900 to modern standards.
San Julián has a natural harbor, the pier, which is currently allocated to activities of national coastal and it is a fresh fish fishery.
Also, the city has several places to go and visit that stand between the Bay of San Julián and its surroundings, the Archaeological Site La María of rock art and the Provincial Reserve San Julián Peninsula.
Reference distances:
From other parths of the province:
| | |
| --- | --- |
| From | Distance (in kilometers) |
| Caleta Olivia | 342 |
| El Calafate | 589 |
| El Chaltén | 740 |
| Los Antiguos | 704 |
| Río Gallegos | 347 |
| Pico Truncado | 400 |
From other parths of the country:
| | |
| --- | --- |
| From | Distance (in kilometers) |
| Neuquén | 1478 |
| Bariloche | 1251 |
| Buenos Aires | 2265 |
| Córdoba | 2179 |
| Ushuaia | 925 |