Chapelco Ski Center

See map
Skiing with a view to one of the largest volcanoes in the province of Neuquén, the Lanin volcano and taking the Andes and Lake Lacar as witnesses, is one of the many tastes that can have Cerro Chapelco's visitors.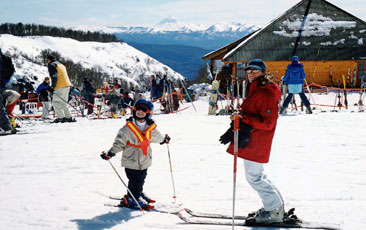 Chapelco in Agosto with the Lanín Volcano in the background. Photo courtesy of Roberto from Patagonia.com.ar photo album
Chapelco offers a padded surface for skiing as it is a hill without stones, with plenty of beautiful lawns and surrounded by native lenga forests. This ski area free of rocks makes it possible to enjoy the slopes even in light snow.
Chapelco has 31 ski slopes of varying difficulty, making the center offers alternatives for all levels. Beginners can ski at the base or the Pista 63 and the bravest can slide down the black slopes, the bumps and jumps.
For snowboard lovers the winter resort has a Snowboard Park where they made windscreen to keep the snow, especially designed for practice and competition of different modalities such as parallel slalom, half pipe, fun park and go biga.
As for the slopes, the maximum is 45 º and the minimum 20 º. The summit is at 1980 meters and the ski area is 140 hectares with a vertical drop (not cumulative) of 730 meters. From the top of the quadruple chairlift of the Mallin to the base, the maximum length is 5.3 km. Another possibility is down from the top of the Poma del Filo and Pioneros in 3.4 km.
Chapelco also boasts of good and abundant snow during "peak" of winter. The snowy precipitation annual basis is 1.50 meters and 2.50 meters at the summit, while the average snow depth is 0.50 meters. At the base, 1 meter in intermediate and 1.30 meters at the top. Experts can enjoy the speed off-piste, sink and float in the snow.
The center has a capacity to transport 11,718 people per hour, skiers can navigate the hill using their magnetic cards called snow pass. Eleven lifts expedite the transfer of the skiers. The cabins, comfortable and warm in five minutes can reach 1600 platform, area of secure ​​snow all winter. A cabin, five lifts (two doubles, one triple, two quad) and five drive means cover the entire area.
Chapelco has a ski school recognised internationally, with its 20 years of experience in teaching the sport with a team of professors at the highest European level. In that school they teach the various disciplines of skiing:
Alpine
Nordic
parabolic ski
adventure skiing
paragliding
mono ski
snowboarding in its various forms
off-piste skiing.
For those who do not want to ski there are rides with sled dogs or for more speed on snowmobiles.
How to get there?
Leaving the city of San Martín (1600 miles distant and an hour and a half flight from Buenos Aires), take the National Route No. 234 which skirts the Lake Lácar. You cover 16 km paved, joining left to Provincial Highway No. 19 and after a journey of 5 km along this gravel route leads to the base of the hill.
Rates 2011 season - Lifts
Low season
11/06 al 01/07
10/09 al 02/10

Mid season
02/07 al 08/07
30/07 a 26/08

High season 09/07 a 29/07

Special season
28/08 a 10/09

Major

Min/Sen

Major
Min/Sen
Major
Min/Sen
Major
Min/Sen
Cabin
70
55
105
75
135
95
80
60
Daily pass
170
140
220
205
265
240
190
160
Weekend
255
245
355
320
455
360
295
280
3 days pass
465
380
660
540
800
660
540
430
4 days pass
630
520
870
785
1130
930
720
595
5 days pass
765
625
1060
930
1370
1090
870
715
Weekly pass
905
730
1250
1120
1595
1295
1035
835
University student pass
730
-
1120
-
-
-
830
-
15 days pass
1795
1465
2520
2220
3155
2560
2050
1670
Monthly pass
3510
2810
4915
4295
6250
5080
4005
3205
Season pass
7290
5260
7290
5260
7290
5260
7290
5260

• Infants: 0 to 5 Free • Children: 6 to 11 years • Major: 12 to 59 years • Seniors: 60 to 69 years • Over 70 years: Free • University student: 18 to 28 years
Note:
- The loss, breakage or damage to the chip card will cost recharge / reset.
- People with disabilities (presenting certificate of disability) can have the Pass free of charge, just pay the daily insurance.
- The college students must present current documentation that proves itself (book, cert. Free debt, cert. Regular student, etc).
- When a subscription covers 2 seasons will be charged proportionately.
- Rates subject to change without notice, denominated in pesos.