Chapelco Tetrathlon

See map
Every winter San Martin de los Andes is ready to receive athletes from around the country attending a sporting event since 1987, it is the Chapelco Tetrathlon.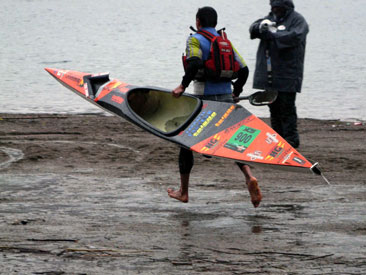 Ready to go 10 km kayaking. Photo courtesy of Claudio Miño
Attended by athletes from around the country and abroad who prepare all year to participate in this prestigious event that combines sports for which is necessary a lot of training and physical training.
Under near-zero temperatures and sometimes snow, rain or wind athletes travel 85 kilometers distributed as follows:
15 kilometers of skiing. Starting with a climb on foot with skis on their shoulders and descending slopes and backcountry skiing.
44 km of mountain bike descents, constant ups and downs with some technical sections on land which imposes great difficulty.
10 km kayak on the Lake Lácar.
And the final stage, 16 km trek going up and down steep mountain paths to reach the goal.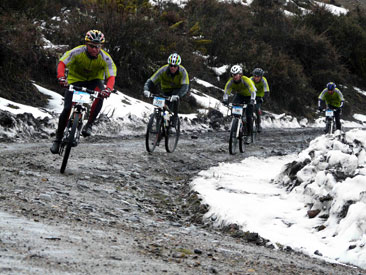 Mountain biking is part of the competition. Photo courtesy of Claudio Miño
They compete individually or in teams, in different categories and for various prizes including 25,000 pesos in cash. There is a non-competitive category involves parents and children: the traditional "Posta 2X2".
Rules
The type of skiing that is practiced is alpine of any length or type. Not Snowboard nor Snowblade.
Competitors should bring their own mountain bike type bicycle gear ratio free. Not permitted tourer or triathlon bikes.
The kayak should be simple. Individual contestants will use a kayak which measure may be 4.50 meters full length or minimum width of 0.47 meters (in the wider sector of the kayak). Rudder system will be allowed which may not exceed 0.12 meters over the length of the kayak. For propulsion will be used double rowing or double shovel. Not required to use the shirtfront of the race on the lifejacket.
Each rider must bring or rent a kayak, mountain bike, a pair of skis and accessories. Competidors will be in charge of transportation.