Water activities in the lakes of San Martín de los Andes

See map
In San Martin de los Andes you can find lakes and rivers for water sports. These include kayaking, water biking, rafting adrenalin activity, windsurfing, kite surfing and rowing.
Within the Lanín National Park there are lakes and rivers that can make you feel special experiences for the summer. Lake Lácar is one of them. Kayaking, water biking, windsurfing and kite surfing can be done in it.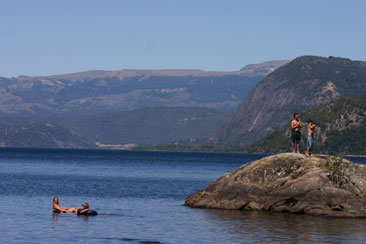 The lakes waters are ideal for water sports, but also to enjoy skin-deep.
A few kilometers from San Martín you arrive to Quila Quina, a perfect place for so-called wind sports, as the winds averaging 24 to 35 kph.
For those who are with family, friends or those who just want to enjoy a quiet walk with landscapes of mountains and lakes, you can opt for bikes, canoes or boat, for being alternatives that do not generate physical demand. Lakeshore Lácar you can rent boats and encouraged a way to enjoy the water and see the landscape from another point of view.
You experience the adventure when you do surfing, rafting or kayaking. To do this you need a little training provided by the guides.
Kayaking you can find remote places where few can reach with other vessels. In them, thanks to the transparency of the water, you can see trout, seaweed, rocks and hidden vegetation.
The tours hired can be half day or full day or several days, and include transportation and other stuff like life jacket, paddles, wetsuits and other security features.

In this view you can see Lake Lácar with the boats at the dock.
As mentioned above rafting is one of the most adrenaline activities. Down the rapids you feel vertigo and fun at the same time. It is ideal for friends or family because there are different levels and accompanying guides who provide a brief introduction of both navigation and security you need on rivers and lakes, giving maximum confidence. After rapid declines are moments of quiet in which navigation is used to discover colors and landscapes you will remember.