Lahuen Co: a thermal spa near the Lanin volcano

See map
Very close to major ski resorts of Patagonia and San Martín de los Andes and Bariloche, is the mountain thermal spa Lahuen Co, "miracle waters" in the Mapuche language.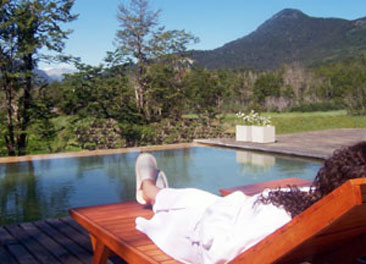 One of the outdoor thermal pools.
Supplied by Epulafquen hot springs, the spa is immersed in a native forest and surrounded by crystal clear lakes, meltwater streams and privilege of the thermal springs that emerge naturally from the ground. It is one of the best places to find relaxation and health at the foot of the mountain.
Located in the heart of Lanin National Park, south of the province of Neuquen, is a space that offers baths, massages, mud, yoga classes and everything you need to relax and forget the rush of urban life.
This place also offers activities and itineraries for trekking, fishing and enjoy the snow before going to take relaxing baths. In Lahuen Co you can enjoy a day that combines rest and activity, or a more extensive stay with accommodation, transportation and activities in nature.
Lahuen Co's infrastructure is prepared to receive people with reduced mobility. It has ramps, adapted toilets for both sexes and wide spaces of movement.
Thermal Spa
The concept of using thermal water follows the premises of the practice in the Japanese hot springs (onsen) that coincide in this aspect, with use in the Greco-Roman baths.
The spa day can be taken in the morning or afternoon, starting with a reception with a welcome hot tea.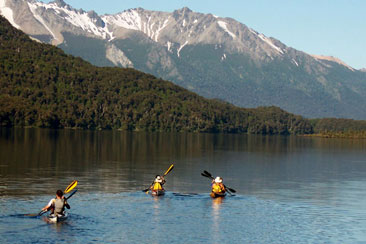 Kayaking in Lake Epulafquen is one of the activities you can do in Lahuen Co.
The relax circuit begins in the tepidarium (the pool at body temperature) and progresses in temperature according to the wishes and needs of each guest, alternating other indoor pools that make up the caldarium, with staggered temperatures between 38.5 and 42 ° C . Thermal circuits are combined with invigorating Vichy hot showers (in special beds have water continuously throughout the body) and dips in the outdoor pools of cool thermal water (25 to 28 º C).
Among the activities organized in larger stays can make a route that runs through two lakes and ends at the spa, one that goes from Bariloche to the spa and finally one that propose a weekend that combines snow and hot springs.
Distances to Lahuen Co
- 66 km from Junín de los Andes
- 82 km from San Martin de los Andes
- 516 km from Neuquén capital.
This warm-class spa, is an ideal place for those seeking adventure and relaxation.
Source and photos: www.lahuenco.com