Lanín National Park

See map
Lanin National Park is located southwest of Neuquén province, covers an area of ​​412,000 hectares and its geography has 24 glacial lakes. In its territory the Lanin volcano, hence its name.
It was created in 1937 with the intention of protecting the Norandino - Patagonian forests containing species found only in a small area of ​​the province as the pehuén, the raulí and roble pellín.
Previously the land was occupied by the Mapuche communities. Currently there is a clear relationship between park authorities and communities that have agreed to joint participation in the preservation of the park and the park returned their land as it was and is the territory in which they develop their culture.
At various points in this protected area there are numerous free and organized camping in some lakes allowed fishing and water sports that do not affect the natural ecosystem.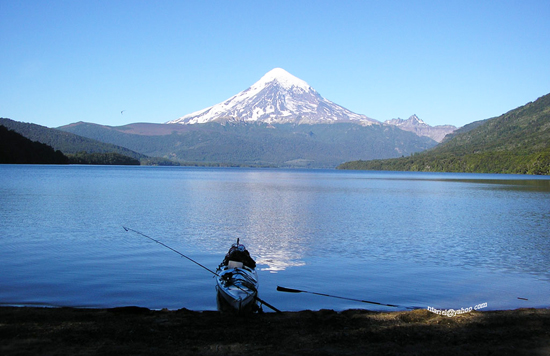 Vista del volcán Lanín desde Paimún. Foto cortesía de Ariel Raimondi del álbum de patagonia.com.ar
Trails and walks in the park
Interpretation path "The Forest" easy walk from Puerto Canoas of 45 minutes duration.
Path of ascent to Cerro Chivo: From Bahía Cañicul through acolihue cane lasting 3 hours.
Saltillo waterfall trail: From Piedra Mala takes 35 minutes.
Path to the Paimún sectional: Also from Piedra Mala takes 3 hours. Besides the sectional there is a free camping.
Paimún Refuge Trail (1700 meters): Requires 5 hours of climbing since the beginning of the path. You must register in Puerto Canoas.
Tromen area
Path to the International Boundary and Araucaria Forest: 3 km route through forests of araucarias and gravel road. On the border there is a Christ.
Path to the source of Malleo river and lake Tromen: 4 km to the lake, little difficulty.
Climbing the Lanin volcano: From the Park Ranger Sectional. Advice is recommended in the National Parks offices before making the climb. It requires good physical condition.
Path Puerto Arturo - Auquinco - Laguna Verde: Trekking 3 days' duration. You can stay in 2 shelters. Registration required. This trail is closed during hunting season of red deer in March and April.
Path Termas Lahuencó - Lake Paimún Fund - La Union: Path of 2 days. It is recommended to start from the hot springs.
Path Quila Quina - Lago Escondido - Ruca Ñire - Pucara: A little over 100 km to Hua - Hum where you can take public transport to return. With 2 days duration you can camp in Lake Escondido and Pucara.
Path to the carbonated mineral water source: From the Villa is 800 meters up the slope.
Path to the Waterfall of Arroyo Grande: From the Villa is 500 meters to the falls. As it is in Mapuche land you have to pay for access.
Interpretation trail El Cipresal: from the banks of the Arroyo Grande, near its mouth. The route is 800 meters.
Área Lácar- Queñi
Arrayán Circuit: 22 km route with views of Lake Lacar and the hills surrounding San Martin de los Andes.
Catritre beach is 4 km from San Martin de los Andes, reaching a camp area where you can do water sports.
The quartermaster of Lanin National Park is located in San Martin de los Andes.
E. Frey Street 749
Telephon: (029) 72-427233
E-mail: lanin@apn.gov.ar
svellido@apn.gov.ar