Los Barreales Paleontology Center

See map
A tour of San Patricio del Chañar may hold a surprise visit to the past. A few kilometers away, in the central-eastern province of Neuquén, following the path of Provincial Route No. 51 is located the Lake Barreales Paleontology Center. This site was discovered within the territory of the Mapuche community Paynemil on the north shore of artificial lake "Barreales".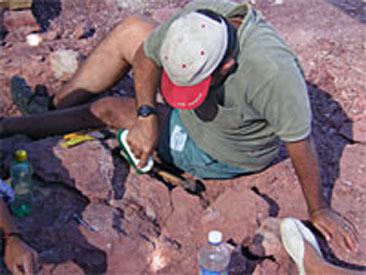 Digging fossils bones in Los Barreales.
This is a unique center in the world, and is open to the public throughout the year and allows tourists to come and learn about the rescue work and study of a dinosaur by many paleontologists. During the visit you can also access to the laboratory where they prepare the pieces found for later display.
The excursions to the Palaeontological Center are ready for visitors to learn how the dinosaurs were born, under what conditions they lived and how their bones became rocks. They may also have contact with the heavy fossils of a Titanosaur.
The specialists who accompany the tourists made ​​a paleontological geological interpretation of both the typical landscape of the time when dinosaurs lived and the current landscape of the place.
Another option is to visit the Geological Paleontological Circuit, in which tour guides deepen with information on the geology of the site and native vegetation. Walking is possible to reach a deposit of fossil trunks, the sediment cave Coragyp and different panoramic viewpoints.
The trail takes about two hours and has a low degree of difficulty to suit the capabilities of the visitors.