A walk through the Fin del Mundo Winery

See map
In 1996 the company Inversora SA of Julio Viola proposed creating vineyards in the arid, almost desert area of ​​San Patricio del Chañar with the government of Neuquén impulse. A few years after these 3200 hectares planted were sold.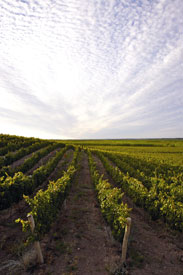 The vineyards of the winery.
Thus was born the wine region in the province of Neuquén, which today is recognized as one of the largest in the country and within global markets.
"Fin del Mundo" is one of the pioneers in San Patricio del Chañar and largest winery in the wine route. Its area is 870 hectares with a capacity of 8 million liters. Equipped with 200 stainless steel tanks, 2200 French and Amercian oak barrels and 10 oak cask.
It is harvested varieties
Malbec
Merlot
Cavernet sauvignon
Pinot noir
Syrah
Cabernet franc
Tanta
Chardonnay
Sauvignon blanc
Semillon
Viognier
The winery was founded in 1999 when the first vineyards were planted. And like who cares for a child at birth, have provided the necessary care for these new fruits, because in each plant is don,e as a way of protection, wrap with cartridges and curtains that sheltered from strong winds in Patagonia.
Irrigation is by drip irrigation and hand harvesting. All these are procedures that reflect the care that is to provide a product that will be export.
Awards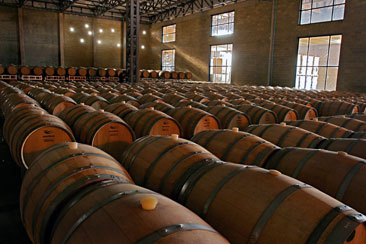 You can tour the winery and see the entire process of wine production.
Since 2002 the winery "Fin del Mundo" has received national and international awards for their products. The last were two gold medals and 1 bronze medal in the category Special Blend 2005 (gold), Gran Reserva 2005 (gold), Malbec Reserve 2006 (Bronze).
Visitors to the region can go to the cellar where there are guided visits. The tour begins with a review of the winery and a talk about the vineyards accompanied by a tour of the production area. It is the winemaking process step by step. While the workers of the winery continued to produce shows how is the day by day making one of the Patagonian wines.
The end of the journey is what we all expect. Taste these exquisite wines in the reception room.