Tea time, a trip to the past

See map
Simple houses, some very lowly, but all of a very special personality that show hints of homesickness, are erected by the settlers in the valley (Gaiman, Trelew, Puerto Madryn, Rawson and Trevelin, in the mountains).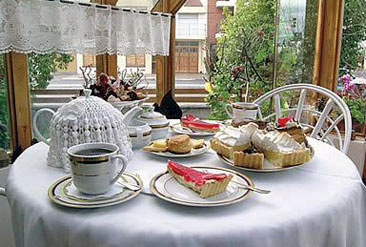 The tea houses are also a very strong appeal in Trelew.
Adobe, stone or brick, they always had distinctive features that marked the Welsh roots, coupled with corrugated iron roofs which served to convey musical notes to their inside, the force of nature with its manifestations of wind and rain.
Guillotine windows and doors complete the exterior. Some cool galleries and attached the classic Bay-Windows: their environments with machimbrado wooden ceilings, fireplaces and iron typical kitchens that were excellent heat for every home in the long cold winters of Chubut.
Over time and as a result of ongoing cultural events of the community, which called for neighbors around the Chubut Valley, some families with very good reason were enabling their homes to provide some of these visitors the appealing "Tea" in the afternoon. Thus was born the traditional Welsh tea houses, typical homes equipped to service this custom which forms part of the cultural heritage of the Welsh.
With full respect to these features as its own and which are fully committed and identified by descents, several of the descendants of Welsh settlers who provide this service, which is a delight for visitors. They can enjoy tasty delicious Welsh tea accompanied by specialties such as homemade bread, scones, homemade jams, cream and apple pies, Welsh black cake, lemon pie, chocolate and walnut cake, cake with seasonal fruits, snacks and many temptations.