Cerro Castor, skiing the end of the world

See map
When we talk about Ushuaia we go back to landscapes surrounded by sea, mountains and of course lots of snow.
To enjoy it you can go to the ski resort of greater relevance in the area, the Cerro Castor. This complex was opened in 1999 and is immersed in the stunning Tierra del Fuego National Park.
Location
Castor is situated only 195 meters above sea level and its top rises to 1,057 meters, a height less than other ski resorts.
The hill is just 26 km from Ushuaia, a city can be reached by air or by land through National Route N º 3, completely paved.

Panoramic view of Cerro Castor.
In winter, the climate ranges between 5º and -5º C and the geographical position of the center make of these two characteristics a perfect snow quality. The season runs from June to October, one of the longest in the world.
Slopes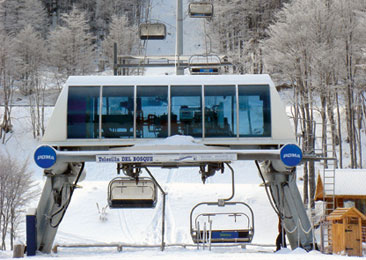 The resort counts with very modern lifts.
It has excellent slopes for all levels of demand and very modern lifts. It distributed in 600 hectares and 28 kilometers, a total of 24 slopes with different requirements, with a skiable drop that reaches 772 meters.
If there is few snow, there is a system with 11 snow cannons placed every 200 meters. It also has a stepped system of slopes, which contains 5 grooming snow machines to ensure a smooth surface.
Compared to other ski resorts, Castor is within the top four in Argentina (behind the Cerro Catedral in Bariloche, Chapelco in San Martin de los Andes and Las Leñas in Mendoza).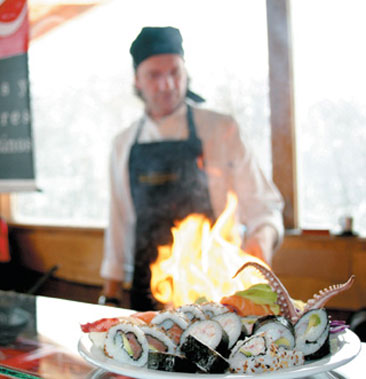 Eating at Cerro Castor.
The lifts can carry up to 8800 people per hour and they are:
* 4 Chairlifts
* 2 Teleski
* 2 Conveyor belts in the area for beginners.
In relation to the mountain cuisine, the hill has 4 gastronomic centers (2 in the base and 2 in the mountain) and 3 mountain shelters.
For the more demanding it also can cross country ski circuits that go through beech forests and glaciers, alpine skiing and snowboarding. But not only is skiing at Cerro Castor, you can also snowshoe trekking, hiking sled dog by race siberian husky, or snowcat or quads race, photographic safaris and ice skating.
Enjoying the snow in Cerro Castor.
The Center also has a Ski and Snowboard Schools, a nursery, a kindergarten, 15 cabins, 2 ambulances and medical care during the day, Wi-Fi, 2 boutiques for sale and rental of clothing, a telephone booth, a photography shop, public telephones, a workshop for ski and snowboard tuning.
To know rates of the 2011 season Ski Center Cerro Castor. For more information on the prices of rental equipment or ski lessons go www.cerrocastor.com
For more information on other ski resorts in the province of Tierra del Fuego visit the following address: https://www.patagonia.com.ar/tdelfuego/ushuaia/nieveush.php