Winters in Ushuaia, snow activities without leaving the city

See map
"Wolfgang Wallner" Resort
Before leaving the city of Ushuaia, there are even in the urban sector suitable sites for recreational and sport use of the snow. For example, the downhill skiiing slope "Wolfgang Wallner", property of Club Andino Ushuaia (cau@tierradelfuego.org.ar), located about thirty blocks from downtown, in the Andino district.
The ski area here is 860 meters, with slopes of 30 degrees on average. Its average elevation is a ski lift up to 300 people. The Club rents ski equipment, sleds and snowboards, in addition, there are instructors who teach grupal and individual classes. It offers the possibility to ski after sunset, as it has lighting throughout. For the terrain the resort is suitable for advanced skiers.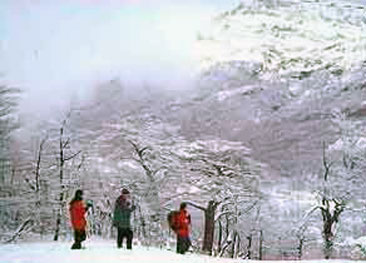 "Francisco Jerman" Resort
Another circuit managed by the Club Andino Ushuaia, also located in the city but for the cross-country skiing is the "Francisco Jerman". It is in the way to the Martial Glacier, about 5 kilometers from downtown. According to the route of the tracks you choose the length can vary between 2.5 and 7.5 km, and there are alternating areas of peat and forest, with ups, downs and natural obstacles that make the journey more exciting. The resort offers classes and rent equipment, including modern snowshoes, great for the trails within the forest.
Here you can ride on dog sleds or snowmobiles. The place has a snack bar and offers a menu tour.
Martial Glacier Resort
At the end of the road to Martial Glacier (which can be reached on foot in summer) there is a winter sports resort, the most immediately accessible from the center of Ushuaia and even more if you start from the hotels located in the top of the city.
The extension of ski slopes exceed 1,100 meters, its average elevation is a double chairlift with a capacity of 224 skiers per hour. On site ski lessons can be taken. You can climb to the summit chairlift and from there you can appreciate the city in all its magnitude. An hour and a half walk leads to the Martial Glacier, where there can be seen the Andes Fueguinos range and the valley of Andorra.