Ushuaia International Festival

See map
For two weeks the town of Ushuaia becomes the focus of worldwide attention when it is celebrated in autumn the Ushuaia International Festival. The same brings together the best classical musicians from around the world becoming in the southernmost festival in this musical style.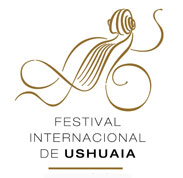 Official Festival Logo
The festival was created and organized by producer Festspiele SRL. The 2011 edition took place from 2 to 16 April at the official headquarters of the producer, who is Las Hayas Resort Hotel.
15-day meet in Ushuaia the most important figures in classical music. Among them is the renowned Moscow Symphony Orchestra, the pianist and Italian Luca Garbini the violencellista Ji-yeon Woo and Argentiean soprano Gabriela Pochinki and many more.
In addition to programming with renowned soloists and chamber groups are also developing free popular concerts and Masterclasses and Conferences in the city of Ushuaia, Tolhuin and Rio Grande. This event positions the province of Tierra del Fuego as South American musical shaft in the autumn and helps to strengthen the city, province and country as a cultural tourism destination.
Festival History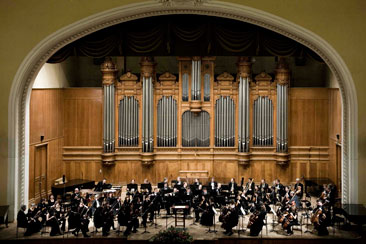 Moscow Symphony Orchestra.
In its third edition, developed in 2007, the festival has established itself as Ushuaia elite international event with participation of the Berlin Symphony Orchestra (Berliner Symphoniker resident). Then in 2008 marked another goal to create Ushuaia Philharmonic, led by master Jorge Uliarte, which was praised at the festival and gave a concert in Buenos Aires later.
Finally, the 2010 edition, the sixth, the producer Festspiele SRL presented the End of the World Choir composed by voices of Tierra del Fuego who performed Mozart's Requiem.
Ushuaia Festival Recognition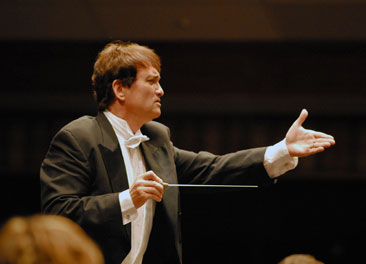 Master Jorge Uliarte.
The Festival is sponsored worldwide by the government of the province of Salzburg (Austria), Salzburg city (Austria), the Embassy of Austria, the German Embassy, ​​the Croatian Embassy, ​​the University of Arts in Graz (Austria ) and the Mozarteum in Salzburg (Austria). And at national level by the city of Ushuaia and the government of the province of Tierra del Fuego, Antarctica and Atlantic Islands.
This event has been declared of interest in the Office of the President (General Secretary), the Senate of the Nation, the Ministry of Culture of the Nation, the Ministry of Tourism's Office, the Legislature of Tierra del Fuego and the Municipal Government of Ushuaia, being sponsored by the Dirección General del Antártico (DNA).
For more information visit the official website of the Ushuaia International Festival. Tickets on sale at Ticketek or at the local Atlántico Sur in Ushuaia.