Caleta Olivia: oil city

See map
In the early years of last century, when the telegraph line from Comodoro Rivadavia was built, in one of those trips carrying wires and poles, a lieutenant discovered a ship which named Olivia, it is believed that after its wife.
This city, near the border with Chubut, is almost the gateway to the province of Santa Cruz and an area of ​​unmatched beauty.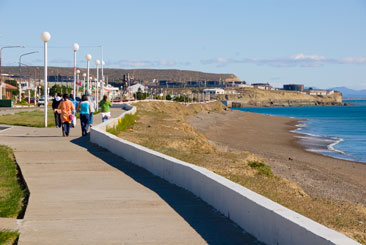 The waterfront is the location for hiking and walk with friends. Photo courtesy of A. Patrian.
Today is the second city of Santa Cruz for their turnover and oil since 1944 when in the vicinity of a well uncovered a rich napa oil.
The Natural Caleta, this landform located between the Municipal Sports Complex and the beach of oil tanks on the coast, was declared a Municipal Nature Reserve to preserve the area and marine biodiversity that exists in the place.
The symbol of Caleta Olivia is "El Gorosito": a monument that honors oil and tankers. An oil worker who with his gaze to the north of Argentina, represents the entire delivery that Patagonia makes to the rest of the country of its mineral wealth.
Another attraction is the Theme Park June 26, located 700 meters from the historic downtown to the west of the city. There you can see various elements related to the process of oil and informational posters on the subject, among which stands a wooden derrick height of 11 meters of German origin.
Besides the city of Caleta Olivia is the scene of fishing tournament Silverside 6 hours in the La Escondida beach. Other beaches where this sport throughout the year are to the north Playa Bonita, La Lobería, Bajada de la Osa, La Encajada, La Alambrada, El Cerrito, Fraszcher, Quieta, Laguna de los Patos and south CADACE, Bahía Lángara, Supe and Las Golondrinas, among others.