Caleta Olivia, historic circuit

See map
Caleta Olivia proposes to go through a circuit along the old historic neighborhoods and homes of the early settlers to learn more about its history.
The tour begins in the center of the city, the geographical accident "the cove" significant because it refers to the arrival of the National Guard ship and the construction of the telegraph line.
Then in the dock of the bay, you can see the first house built in 1903. The first store in the city working in what is now called the "Old House" belonging to one of the first settlers of Caleta Olivia. Beside the "Maimo" house seeking to declare the city's historical heritage to be the most original shows of the era.
The expansion of the city thanks to the discovery of oil. For this reason, the tour continues through the first neighborhoods that were installed for the workers of the oil company YPF.
The park neighborhood, located in the west of the city was the first who opened the company. Their houses were built with wood. And in the '50s begins to build the neighborhood, "June 26" with houses built of concrete.
The tour continues by former baskets of YPF, two buildings that housed unmarried workers of the company and ends at Puerto Caleta Olivia opened in 1998 currently suitable for the operation of fishing vessels, freezers, coastal fishermen and merchants.
Source: Caleta Olivia Municipality www.caletaolivia.gov.ar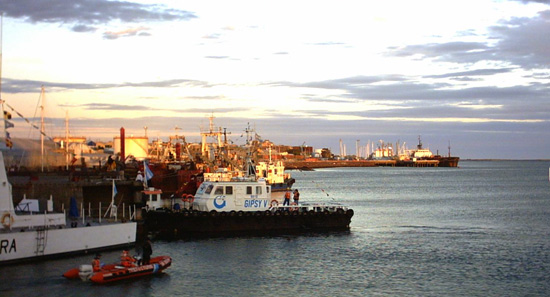 The Caleta Olivia Port is suitable for the operation of fishing vessels.