Penguins in Cape Dos Bahías

See map
Camarones is on the Atlantic coast, halfway between Rawson and Comodoro Rivadavia. Here you can find hotels and typical restaurants with seafood specialties.
30 km from the city is the fauna reserve Cape Dos Bahías, characterized by a beautiful landscape of rocks of different shades that contrast dramatically with the deep blue sea. There is concentrated a large colony of Magellanic penguins and a large number of foxes and guanacos at an optimal distance to be observed and photographed.
Fauna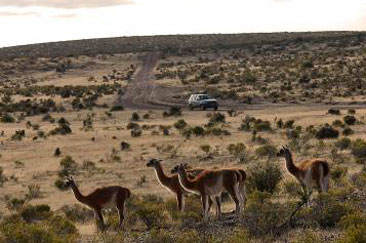 Guanacos.
In the scene between Valdés Peninsula, Camarones, the Atlantic coast and the Florentino Ameghino dam, there's no doubt about who are the stars: the sympathetic and tender Magellanic penguin, the magnificent Southern Right Whale and the strong sea elephant with nearly 4 tons of weight.
In this area you can also see land mammals such as guanacos, Patagonian mara, gray fox, skunk and Patagonian piche.
Seabirds are characteristic of the region, besides the Magellanic penguin, black-necked cormorants, kelp gulls, the white heron, oystercatcher common, sandpipers, plovers and lapwings, while land birds are the ñandú pestiso or choique, carancho, the common goose and martineta copetona.
Flora
There are many steppes but none like the ones in Patagonia. On the vast plateau live infinity of different species of shrubs, low, spiny, small leaves, brush very young and strong and deep roots. These characteristics are determined by climatic factors in the area, and that plants need protection from the wind and endure water shortages. Therefore, in the rainy season is open showing her tiny but very showy flowers and store water for the dry months.