Economic activity in Camarones

See map
Camarones is located southeast of the province of Chubut on the side of the Camarones bay in the Atlantic Ocean. The economic activities that take place in the region are livestock, alghae production and fisheries.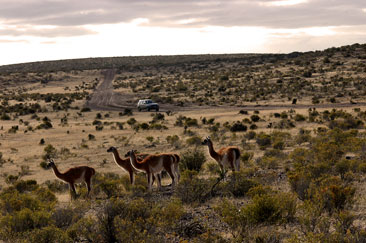 Guanacos in Camarones. Photo courtesy of Agencia Turismo de Comodoro.
As for the livestock there are many producers dedicated to raising sheep for wool and meat sales, and it is noteworthy that Camarones has a wool classification called "woll type Camarones". There are also projections to work guanaco wool. But this is not the economic activity that generates more jobs locally.
Another activity that takes place in Camarones consuming stable workforce is the alghae production. Is mainly carried out both in the city and in Bahía Bustamante, where local collectors make seasonal work through the system of "Arribazón".
But without a doubt, the main activity is the convener and productive fisheries. Counting on a port reopened in June 2007, Camarones is dedicated to "Estiva" of the catch. Also, we have to mention the project "Mussels" being conducted by the School No. 721. This is the seed, farming and cultivation of mussels and then making sales to the general public, who are the "Hatchery", which also makes laboratory studies and cultures are incorporated mussels and crabs for educational purposes.
Finally, in Camarones is exploiting Patagonian "tobas", which aims to continue the architectural style of the 40's to 60's coated with Toba Stones. Therefore, it has allowed the exploitation of this material as well as Rhyolite by a local company that uses the material obtained for coatings, flooring and other applications.