Fly fishing in Caviahue

See map
Many are the fisheries in Patagonia known by fishermen around the world. The town of Caviahue is not far behind and presents various options to get the best trouts in the area, although it is not one of the most renowned fishing.
Lakes, rivers and streams provide the ability to capture beautiful specimens of the famous Patagonian trouts by fly fishing mode. Both visitors and residents come to these places in search of larger rainbow trouts.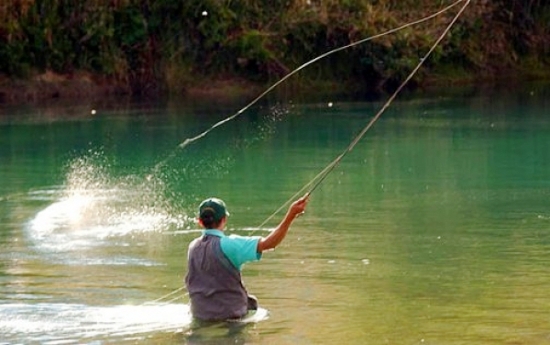 Struggling to bring the fish in the lakes of Caviahue.

Although the lake Caviahue is closed to fishing due to rich toxins in sulfur that get from volcano Copahue, preventing reproduction and fish life, there are many other waterways that are ideal for fishing. It is always important to consider the return required to maintain the life cycle of these animals, as there is not a nearby psicultura station that provides fish regularly.
Among the main places where you can go fly fishing are Hualcupén lagoon, which empties into the Compul lagoon and thus gives rise Hualcupén stream, which runs several kilometers boxed and that names its namesake valley.
In this entire river basin, the angler can have fun with specimens of medium size but very fighters, making it essential to find small mouths of little streams where fish are waiting insects and crustaceans that carries the stream. With good technique and patience that characterizes the fishermen he can get beautiful arociris trouts, which sometimes reach 8 kilograms.
Another prominent lagoon and near Caviahue is the lagoon Trolope, that along with gaps Larga, Escondida, Achacosa and Rincón, are reputed to have very large fish. These precious specimens are also the ones that are mostly served in restaurants of Caviahue and hotels of Copahue.
Source and photo: Municipality of Caviahue-Copahue.