Patagonian Express: A fan talks about La Trochita

See map
Well you could say I'm a fan of La Trochita. Although I live in the United States for many years, my journey to Patagonia to ride the famous train has been repeated seven or eight times since I left. Mary, my patient American wife is often asked what is the attraction that brings me back again and again instead of traveling to the beaten tourist spots frequented by the Yankees.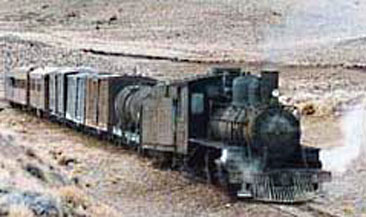 On December 30, 2000 I found myself once again in a passenger wooden and miniature car, steam walking area of Chubut to the south of El Maitén. My 17 year old son made me a video where you can see me smiling blissfully with a pleasure travel. The tour, about 20 km, was short and the train stopped in the middle of nowhere. Some forty or fifty tourists down in a desolate to stretch the legs. My wife's question reverberated in my brain: What am I doing here?
For me, and obviously to the other brave tourists on La Trochita journey is an end in itself. Is it because I have railway blood, inherited from my father, Mitre machinist for 30 years? La Trochita is the most remote, authentic and picturesque of the several railroads unusual and interesting that I had the opportunity to visit. For the "ferrofana" like me, the Baldwin and Henschell 1922, real museum pieces, are unique gems to be functioning fully enjoy.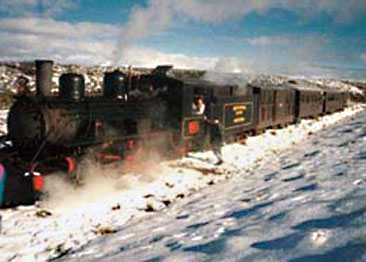 After twenty-minute stop, the historic train started back in reverse. The best place to appreciate the scenery was now the caboose. The passengers were crammed into the rear opening to absorb the unforgettable view of the path of 75 cm slipping back to about 30 km per hour. La Trochita staff, very friendly, remembered having seen me in previous days and covered my trip enjoyable. In what seems a moment, we're back in El Maitén and there to land.
Having produced once again a flawless trip, the old locomotive leaves with bright tones. Looking at the workshops and the city of El Maitén, I gathered that a few people hold all the service that is seen. In 1994, I was said by the workers, La Trochita employed in El Maiten more than 40 people. Still, decimated by the political and economic changes, the remaining employees are bent on maintaining railroad tradition indefinitely.
By Joseph Paris - Argentine physician based in the United States since 1967. Member of Atlanta, Georgia and North Florida Chapters of the National Railway Historical Society, USA.