Lake Buenos Aires has its festival

See map
Since 2002 the city Los Antiguos in Santa Cruz performs the "Lake Buenos Aires Festival".
Among the last days of October and early November, it is developed, every year, this party which seeks for sports practice on the lake and to create awareness regarding the preservation of the environment. The activity is planned between the Ministry of Tourism, Sports and Culture of Los Antiguos.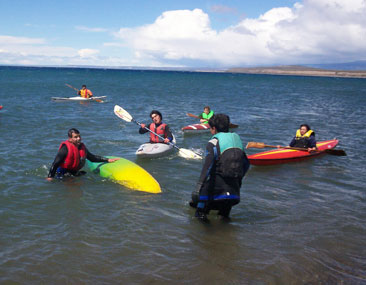 Athletes in Lake Buenos Aires.
The Old Pier is one of the hosts of those who come to perform some activities, as well as for those who just want to watch and enjoy the days of celebration at the lake. On the other hand, the artificial lagoon created near Lake Buenos Aires welcomes students from Kayak School and in the City Park is developed a mountain bike competition.
This festival includes nautical exhibitions, regattas, beach handball, beach volleyball, mountain bike for children, the training and climbing, art shows, performances by jugglers, acrobats and street musicians, a kite contest, public classes of pilates and yoga on the beach and a fair of artisans and producers.
As the date of the festival coincides with the fishing season tournaments there are included in the schedule fly fishing release competitions for adults and children and spinning mode competitions.
It is also an opportunity to create good habits in relation to environmental care and preservation of species. In this sense there is a very educational and fun activity for both children and adults, that is the planting of fingerling of rainbow trouts in the Lake Buenos Aires. Simultaneously, the Provincial Minister of Fisheries gives talks aimed at conservation.
The city of Los Antiguos is growing and the feast of Lake Buenos Aires, along with the Cherry Festival, are activities that attract locals and tourists. The latter can also access the circuit of fine fruit productive farms, one of the main economic activities in the locality.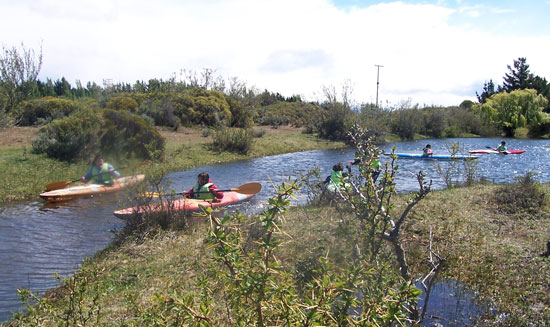 A race with a clear taste of Patagonia.