A ranch day in Los Antiguos

See map
The city of Los Antiguos offers the possibility to visit the variety of farms that surround it in which you will be able to tour the plantations of fruits and vegetables, taste products, know how is the production process on a farm and to make your own crops.
Almost all the farms offer tours and in some you can harvest fruits like cherries and raspberries, or buy vegetables chosen from the garden. On the farm "La Cascada" is allowed to harvest cherries while in "Las Heras" the outstanding fruit are the raspberries. In "Sol de Mayo" fine fruits and vegetables can be chosen directly from the garden.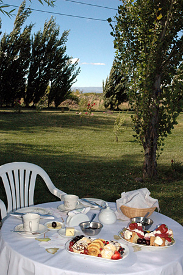 In the farms you can taste products such as cakes, homemade jams and more. Photo: J Bergada.
The products that are on the farms are generally sweet, liqueurs, preserves, puddings, breads, pickles, sandwich cookies, chocolates, cakes and a variety of vegetables and fruits such as apples, peaches, cherries, currants, raspberries, and so on. Also in "La Escondida" there are woven fabrics of wool.
For those who like outdoor sports, the farm "San Fermin" has a recreational days service. You can find a paintball field and a recreational park where you can go trekking, arena, rock climbing, mountain biking, soccer and volleyball in touch with nature.
If you visit the Los Antiguos you can not miss a real picnic in one of the farms in the area, served by their owners who share the experience of living nature.
More information losantiguos.tur.ar