Fall and Easter weekend in Los Antiguos

See map
In fall, Los Antiguos offers landscapes ranging from red to orange. On a tour of their farms you can taste their products or try to fish something.
The city of Los Antiguos offers craft rides, fishing tournaments, tasting jams, the traditional visits to Mount Zeballos and the farms in the fall.
A new and attractive proposal is the tour of the production areas, where in autumn weather in the afternoon is ideal for touring the gardens and walk through its alleys.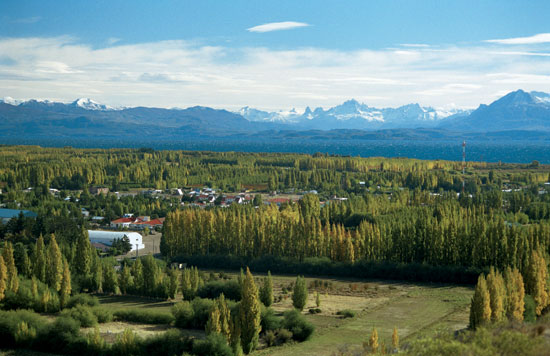 In a panoramic view you can see the farms area. Photo courtesy of M. Basalo.

One way to disconnect from the routine is tasting berries, especially cherries that are the main fruit crop in the region. Also you can buy jams, liqueurs and sauces from the berries.
To continue the tour, you come to Mount Zaballos, a place full of beech and ñires where you can go fishing, that its best moment, offers brown trouts in Lake Buenos Aires and in Jeinimeni river.
For Holy Week religious activities are held, including the Via Crucis which follows the stations in bas-relief made by the artist Luis Quiroz. These ones show the scenes from the Passion of Christ with tehuelche iconography.
Every year, the procession begins at Los Antiguos river and reaches Jeinimeni river, where it joins the Chilean procession as a symbol of brotherhood between the two neighboring nations.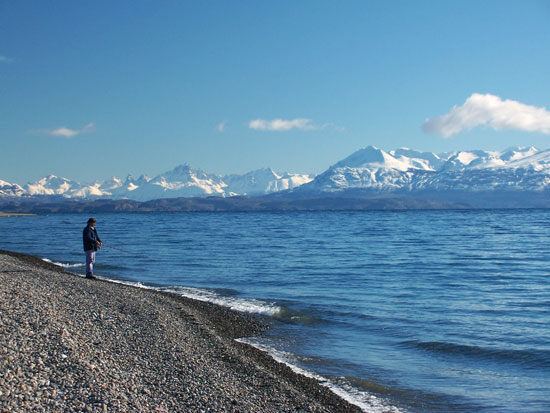 The best reflection of the tranquility of Los Antiguos. Photo courtesy of M. Basalo.