Neuquén also has its Craft Fair

See map
Neuquén craft fair is at the downtown of the capital of the province, on Avenida Argentina. With 120 stalls and street performers, the fair became a must visit for the weekend.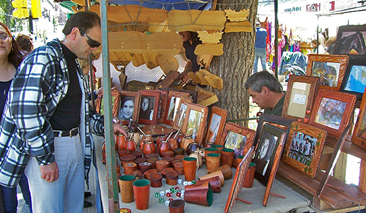 Stand in the craft fair. Photo of the Tourist Office of Neuquén.
In different places you can find products made with silver, stone, leather, ceramics and other materials used to make unique hand pieces typical of the Patagonia.
The fair had its beginnings in 1979 when craftsmen who passed through Neuquén to Bariloche and El Bolsón installed in the square and the people came to see their crafts. Little by little they were also approaching the artisans of the city to show their work.
The following year the fair was integrated into the cultural circuit of the city, in 1985it was established the rules governing it and in 1987 it was given a further boost to the enterprise with the construction of banks and installation of power lines.
Since 1995 it is celebrated in November the birthday of the fair accompanied by a gathering of artisans and street performers from around the country. However, every weekend of the year, besides the various craft stalls are made musical performances, puppet shows, mimes, jugglers, and so on.
More information in www.feriadeneuquén.com.ar