Summer in Neuquén

See map
Limay and Neuquén rivers join to form the Negro river naturally delimiting the two provinces. For the inhabitants of the city of Neuquén, live near these shores is a relief especially in the summer where the heat becomes oppressive.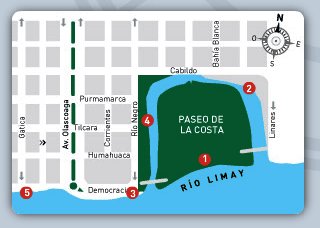 Location of the beaches on the Limay river in the city of Neuquén. Photo courtesy of the
Municipality
of Neuquén.
There are five options to enjoy a day outdoors in the vicinity of the city: the resorts Sandra Canale (ex Gatica), Río Grande, Albino Cotro (Municipal), Figueroa and the Paseo de la Costa.
The lifeguard service for all spas is 12 to 21, hours that are allowed to bathe.
Paseo de la Costa
It is a recreational center for tourism, roads and services development, which includes the banks of the rivers Limay and Neuquén in their confluence.
Currently there are 700 meters from seaside promenade on the river Limay on the island 132. This tour offers the chance to enjoy the natural beauty of the riparian area. Keep in mind that the place is not entitled to resort. (Point 1 on map)
Albino Cotro Resort (municipal)
It is located south of the city and has all amenities to spend a picnic day at the beach. The water flows slowly and has a good beach for kids and adults to enjoy. You can also cross walking to the opposite island as it is a narrow depth zone.
The beach has changing rooms, showers, kiosk and restaurants, plus there is a camping site. To get there, go south on Olascoaga Avenue to the street El Chocón, turn left to Bahía Blanca and then turn right. (Point 2 on map)
Río Grande Resort
It is towards the end of Olascoaga Avenue and it can be enjoyed both day and night, so it is the most chosen by young people. It has a good beach and open coast, and there is a slope for boats, kiosks and restaurants. (Point 3 on map)
Sandra Canale Resort (ex Gatica)
Recently renovated, the beach is in the street Gatica, 2 kilometers from Route 22, it offers lifeguards and police security to spend a day at the beach in peace. Now with sandy beach and car park, this resort is one of the most chosen for the day. There you can also find stalls selling food and drinks.
Touring the resort you find the Verde Island, a quiet place where you can camp but that is not suitable for swimming because the waters there are very deep. (Point 5 on map)
Figueroa Resort
It lies on the Neuquén river. It has nursing, toilets, lifeguards and police control.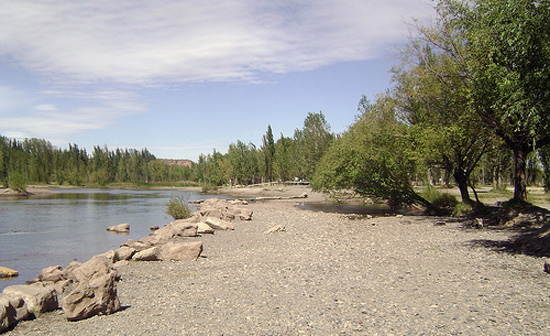 Sandra Canale resort on Limay river.