Diving in Puerto Madryn

See map
One of the attractions for which is known worldwide to Puerto Madryn is watching Southern Right Whales in their breeding season. This whale is one of the living monuments of our planet which in the winter and spring visits the shores of the Gulfs San José and Nueva in Peninsula Valdés.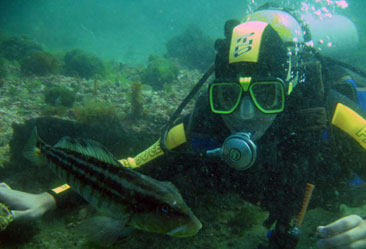 But this is not the only attraction in town. For those who enjoy water sports, diving is an excellent alternative and Madryn offers unbeatable conditions for this exciting experience.
The first and most important for who is determined to undertake this adventure is to hire a good guide. On Avenida Costanera there are agencies who offer underwater baptism service. Once the decision, and as there is no turning back, the next step is the placement of the diving suit, made of thick neoprene because the dive is done at 10 meters deep where the water temperature is quite low.
Completed this step, immediately you take a boat that goes 200 yards offshore. At this place the teacher gives a class of 20 minutes or half an hour explaining the basic diving techniques: how to use the respirator, hand signals to understand the most basic messages, what to do if water gets into the mask, and many recommendations that are vital so that the experience is a success.
With the completion of the talk you just need to put on the compressed air tank and jump into the unknown vastness of the ocean floor.
Those who made this trip for the first time discover a fascinating world that is very difficult to describe. Sensations occur and there are not enough eyes to see everything offered by this huge scenario.
No words can accurately describe being part for a few hours of the underwater world. Our advice is to try it, and then you tell.