Visiting the Florentino Ameghino Dam from Madryn

See map
The dike Florentino Ameghino is on the Chubut River, which originates in the mountains and empties into the Atlantic Ocean. This river has very beautiful and emerald waters.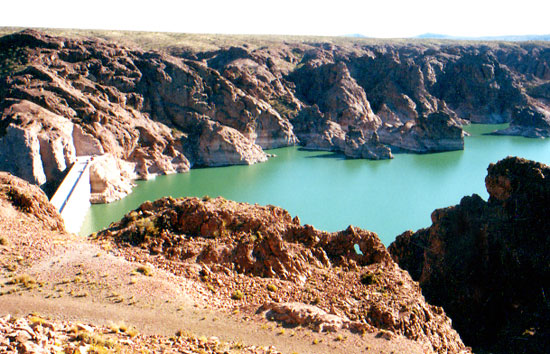 Dike Florentino Ameghino. Photo courtesy of Raul Gallego, Patagonia.com.ar photo album

The dam is located approximately in the center of the province, almost 140 km from Trelew. It is a landscape of great beauty as the lake is drawn between the red rocks of the steppes which give it an imposing frame. Ideal for a quiet day, a barbecue under the trees (there is a camping on the river) or playing differents sports.
Directions
From Madryn, going south on National Route 3 (paved) you have to go in the direction of Trelew. At the distributor roundabout (after doing about 60 kilometers and having already passed the Trelew Airport) turn right and take Provincial Route 25 that goes to Esquel (paved). Continue to the town of Las Chapas (117 kilometers) and turn left there. After traveling 12 kilometers you reach Ameghino Dam. You can go rafting, rock climbing, trekking, photographic safaris and trout fishing in the backwaters of the river.