Stone Crosses in Patagonia

See map
A stone cross is a monument that is built and rised towards a homage or devotion. Usually they are religious and are located in public places, mainly in crosses at churches and roads.
In Río Gallegos one was rosed to the memory of the founders of this town, to give tribute to the men and women of all nationalities that came to this city and to the rest of Patagonia.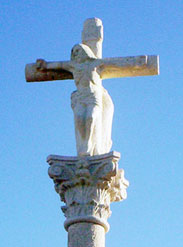 Close Image of the stone cross.
The stone crosses are made of a cross which is made of stone or wood. They originated in Portugal and Galicia (Spain) and they are a work of popular art. The story goes that the people of Celtic origin have identified trees, rivers and stones as symbolic bearers and guardians of their hopes and expectations as peoples. Around the stones they made their rites in joy and in sorrow.
In them you can find an integration of Galician culture with Celtic, Roman, Christian and contemporary. For the Galician cultural heritage the stone cross is highly valuable for its cultural characteristic and artistic value.
In addition to devotion or homage, the stone crosses were built to offer or to pray for the soul of who built it, since one of its acquired powers is being the protector of the traveler on the road. Therefore it is customary to stand before a stone cross.
It also endures its use as via christi and the tradition of placing flowers or candles. It is said that there are more applications that today are less entrenched, as its healing use of disease or "evil eye".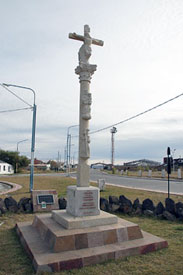 The material of the stone cross is porphyry, granite materials obtained in Patagonia.
The stone cross of Río Gallegos is dedicated "To the memory of Galician pioneer settlers of Santa Cruz" with the slogan: "Lembranza and Friendship." It was inugurated on December 14, 2002 at the 117th anniversary of the city.
It is located in the round ring on the street Almirante Brown and the end of the Magallanes Street overlooking the local river. It weighs 1800 kilos and has 2 steps in porphyry of Santa Cruz and one in Galician granite and its environment is of volcanic rock of the place.
It brings the arms of Galicia, Argentina, Santa Cruz and Río Gallegos and a stick of 2.60 meters long with the image of María Auxiliadora, Patroness of Patagonia and Santiago Apostle, Patron of Galicia.
It was donated by the "Xunta de Galicia" and delivered to the city of Río Gallegos for the care and preservation as a Public Monument.
It arrived at the port of Buenos Aires in 2001. After a while it was moved to Río Gallegos, on July 25, 2002, exactly Feast of St. Santiago, patron saint of Galicia and Spain.
The cruzeiro serves as a meeting place in the city of Río Gallegos.