San Antonio Oeste: a fishing town

See map
San Antonio Oeste is a town on the Atlantic coast of Río Negro. Its main activity is the extraction of sea products and latter trading, so it has a small port dedicated to this activity. However, this city was strong and important from the qualification, 60 kilometers away, of the Deepwater Port San Antonio Este in 1983. From there is exported the fruit of Río Negro to the world.
Note also that, in the municipality of San Antonio and 15 kilometers away is the famous resort Las Grutas, one of the busiest tourist places in Patagonia.
The municipal ejido of San Antonio Oeste includes then three centers: San Antonio Oeste, Puerto de San Antonio Este and Las Grutas. These items form a circuit with excellent tourist attraction and important ecological valuable areas, nationally and internationally, as the Reserve of the Bay of San Antonio.
San Antonio Oeste currently has 17,000 inhabitants.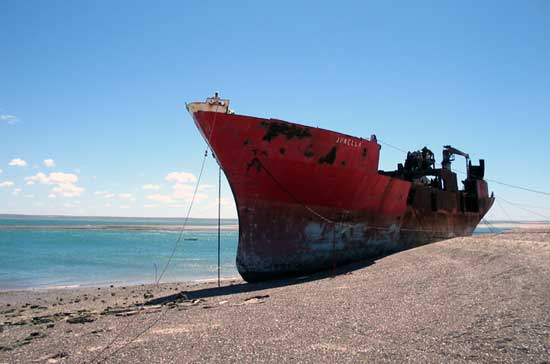 Boat stranded on the beaches of San Antonio Este. Photo courtesy of Sebastián Fernández Díaz.