Mari Menuco: the place of swamps

See map
The lake Mari Menuco and lake Los Barreales, form an artificial lake area that offers an ideal setting for aquatic activities. It takes its name from a Mapuche word that means "ten marshes."
You access to the lake by the Provincial Route No. 7, traveling 80 kilometers from Neuquén, always due north. Camping is the favorite choice of accommodation.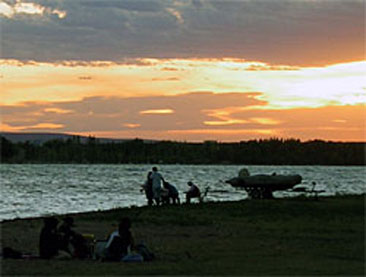 Sunset on lake Mari Menuco.
The summer months are an opportunity to enjoy the resort areas, and practice sports such as windsurfing, boating, jet skiing, boating, water skiing and fishing for mackerel, perch and trout.
In the early months of the year two major events are developed for residents and visitors to the villa. January is the month chosen for the Mari Menuco Wakeboard Festival. There, boys and girls of all ages gather for competition and enjoy parties, professional riders demonstrations and parades with prestigious models.
In February, the town is prepared for the Lake Mari Menuco Festival, with a strongly sports character. For several days develop nautical practices such as hunting, fishing and a variety of aquatic skills, accompanied by musical performances.