Expo Fair of Trevelin

See map
In the town of Trevelin, the "mill village" as they call it, is it held from 1980 an event that has as challenge to surprise visitors and residents annually. The Expo Fair of the city invites local producers and from the region who come to show the public their products.

Official logo of the Expo Fair.
The production, history, and creativity are the backbone of this party in Patagonia. For 4 days, visitors can tour the various booths of the festival and taste local products and enjoy a sampling of exotic and farm birds and other of rabbits.
Producers bring their articles both to compete and display the result of their work to locals and tourists who visit the expo. In it are blended voices of experience, the impetus of youth, traditions and new production processes, making the event a unique opportunity.
The city is renewed and transformed each year. There are expected about a hundred farmers in the area and other parts of the country that travel to Trevelin to offer the fruit of the effort, their works and novelties. There also participate in this event several regional institutions related to the production companies and new ventures, all seeking to create the link between business and future client with the public.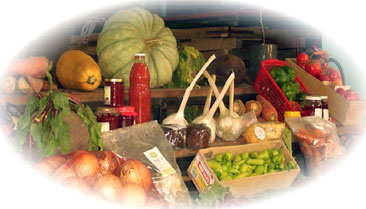 Products displayed at the Expo of Trevelin.
Visitors can attend lectures and opportunities for productive information, tourist and cultural promotion, a culinary walk with the delicacies of the place and enjoy the entertainment provided by local artists.
An interesting data of the Expo is that it has created "The Children's Corner", a space in which the smaller make contact with the care of nature and the environment from the game.
The 2011 edition of the Expo Fair Trevelin was conducted in accordance with Holy Week, from Thursday 21 to Sunday 24 in April.
For more information contact the phones (02945) 15509661 / 15689398 / 15698282 / 15525665 or by email to expoferiatrevelin@hotmail.com