The Eisteddfod of Trevelin

See map
The town of Trevelin is a town of Welsh roots so it is possible to find many traditions that remain of this faraway country. In addition to the famous black cakes and tea, Trevelin celebrates, as Trelew and Gaiman, the Eisteddfod Festival (which is ponunciated Eistedvod).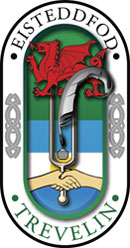 A typical Welsh cultural festival whose earliest records date back to 1717 in Aberteifi in central-west Wales. The festival's name refers to a tradition of the ancient Celts, "to be sit" as they gathered and listened respectfully to the Druids and poets who recited their poems. When settlers arrived in the province of Chubut in 1865, many of the traditions of Wales joined the ones existing in the region. In this southern town the festival was born in 1920 and since then it has been developed by a group of people supported by the local municipality and the Ministry of Culture of the Province.
The categories of the Eisteddfod
The eisteddfod of Trevelin has a large number of competitions (138 in total) that include different cultural activities: singing, ensembles, soloists, recitation, dance, literature, photography and more. But without a doubt one of the most important event is the coronation of Bardic ceremony (winning poet in Welsh). This activity is performed as the Eisteddfod end when each of the poets sits in their bardic chair, made of wood typical of the area, to crown the winners of the Welsh and Castillan language in literature.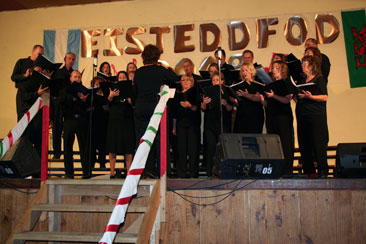 The Eisteddfod choir.
During the two-day festival, visitors can see artists from around the country and the world, especially from Wales that come to rank the event and contribute to the strengthening of the tradition. And with this feast the town of Trevelin is projected once again as tourist destination in the world.
Those involved
It can participate in the Eisteddfod all those who want to show their art in Welsh, Castilian, and others languages. The festival does not include age limits, you can register from 4 years onwards, which is then divided by age categories.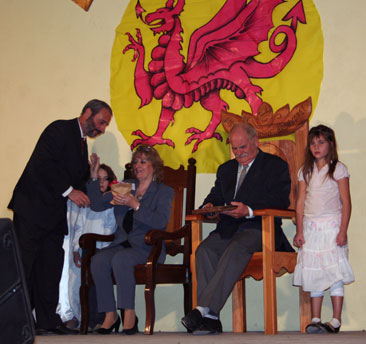 Eisteddfod winners sitting in their Barbic armchairs.
It is noteworthy that this event takes the best offered by the human being, which is achieved when the participant receives the deserved applause from the audience, motivating and exalting him. Moreover, the jury returns with its words aims to build and teach.
The Organizing Committee works as a sub-committee of the Social, Cultural and Artistic Welsh Association "October 16". The last edition took place on April 29 and 30, 2011, where listeners and participants enjoyed the Eisteddfod in the gymnasium of Fontana Club, located on Avenida San Martin and Libertad.
For more information about the event and see the detailed program of the same visit the official website of the Municipality of Trevelin.