Río Negro International Regatta

See map
Since 1965 more adventurous paddlers of the world meet in our country to celebrate the world's longest race, ranging from Neuquen to Viedma, traveling all over the Negro River downstream and can also enjoy a beautiful landscape.
The Río Negro International Regatta involves a distance of 6 stages with two breaks, starting in the capital of the province of Neuquén and ending in the beach resort of Viedma, the capital city of Río Negro.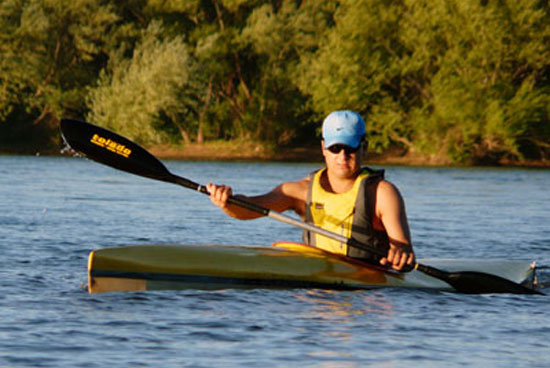 The category K1 of one paddler is the convener of the competition. Photo courtesy of Claudio Miño.
The event is a competition of Canoe "Marathon", organized by the Club Nautico La Ribera of the provinces of Neuquen and Rio Negro. It is international so can participate in the race national paddler and from other countries, as they have done in several editions competitors from Spain, Uruguay, Hungary, England, France, South Africa, Israel, Brazil, among others.
The beginnings of this competition are in the experience of two men from Río Negro, Oscar F. La Palma and Enrique Rietchart, Viedma and Bariloche neighbors respectively, who in 1933 sailed the waters of the Limay and Negro Rivers, from San Carlos de Bariloche to Viedma for one hundred and eleven hours with a precarious canvas canoe.
This fact suggests the members of the Club Nautico La Rivera the opportunity to shorten the journey and make a sporting and tourism competition through the waters of Negro River. And since 1965, with that first nine-stage development, the race has become one of the largest in the world for its length and number of competitors from other countries, being in the eight-day in six stages.
All athletes interested in participating can register by completing a form on the official site of the activity: www.regatadelrionegro.com.ar. In the case of a foreign delegation registration is free, and the organization will provide free rent up to 2 boats per country, the transport of boats and competitors during the competition and food. But to enjoy these services entries must be made through the National Federation.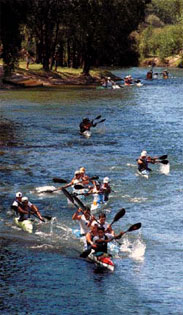 Hundreds of paddlers wait for the longer regatta in the country to measure their level and compete.
The different categories in which participants can score are (where K1 one paddler and K2 two paddlers):
K2 Man Senior
K2 Man Junior
K2 Man Master
K2 Mixed Senior
K2 Women Senior
K1 Men Senior
K1 Men Master
Schedule
During the eight days of the Regatta paddlers will travel all over the Negro River in 6 stages with 2 days off:
1st Stage: From the Municipal beach resort of Neuquen to Paso Córdoba Bridge in General Roca - 3 hours and a distance of 46.7 km
2nd Stage: From the bridge at Paso Córdoba in General Roca to Municipal Beach Island No. 58 in Villa Regina - The duration is 3 hours and a distance of 59.4 km
3 rd Stage: From the Municipal beach resort of Chimpay to the one in Choele Choel - With a duration of 3 hours and a distance of 59.6 km
A rest day in Choele Choel
4 th Stage: From the Farm Ferrari, located at the intersection of National Road 250 and Provincial Route No. 2 of Doña Rina to the Municipal beach resort of General Conesa - Duration 3 hours and a distance of 43 km
5 th Stage: From Balsa de Sauce Blanco, located at km 37.5 of National Road No. 250, to Zanjón Oyuela - Duration 3 hours and approximate distance of 61.6 km
A rest day in Viedma
6 th Stage: From Cantera Herrero, located at Km 1002 of the National Route N º 3 in Zanjón Oyuela to Municipal beach resort of Viedma - duration of 2.30 hours and a distance of 54.1 km