San Blas Bay - Del Jabalí Island

See map
To this place full of mysteries is accessed from Viedma by National Route 3, at kilometer 918, and after traveling 57 kilometers of consolidated roads.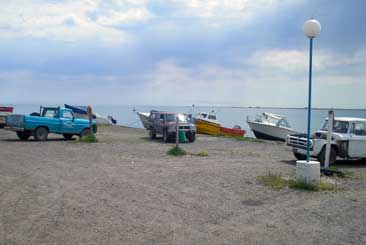 Boats in San Blas Bay, Party of Patagones. Photo courtesy of Luis Manuel Carbone.
For the variety of beaches, unspoiled coastline, the incredible Patagonian fauna and the warmth of the islanders, it is a dream that appeals not only to fishing enthusiasts.
The history bathed this island in mystery since its inception as a haven for pirates and treasure, to the wealth and opulence of its past owners.
Today adventurers keep coming, but the treasure is the tranquility offered by this corner so different, dubbed the Fisherman's Paradise by the abundance and variety of fish that inhabit its waters.
The conservation of nature is a fundamental characteristic of the Del Jabalí Island, so the presence of many Patagonian species makes it a unique place for ecotourism, with several options such as photographic safaris, 4x4 activities, wildlife watching and all kinds of watersports, both offshore and in its ria.
The quality and variety of services that the island offers visitors ensure your comfort. Number of hotels, cottages, apartments, villas, campings, as well as cafes, restaurants and other places of entertainment give receptive quality to San Blas Bay.