A visit to Viedma's farms

See map
In addition to the wide range of activities proposed by Viedma and Patagones with its cultural and natural attractions, historic buildings, fascinating museums or the route of the cliffs (Coastal Road) to Punta Bermeja Wildlife Reserve, it is also recommended for those who come to this region enjoy the rural tourism.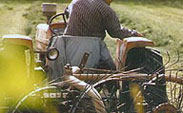 Rural jobs near Viedma.
In the lower valley of the Negro River, in the area known as IDEVI (at few minutes Viedma), there are many farms that are engaged in the production of fruits, vegetables, animal husbandry and the production of regional crafts. You can take walks and tours by some of these establishments and besides taste and buy the exquisite cheese, sandwich cookies, candies, chocolates, nuts, pickles, beer, sausages, pickled wild boar, hare or vizcacha and crafts typical of the region.
Visit the farms, talk with your hosts regarding the settlement of the Northern Patagonia and the current life in the countryside, see species of flora and fauna on the shores of the river, will give a touch of local color to your stay in this area.
For those who do not have time to tour the facilities and wish to purchase these products, they may be found in various local shops or at the Craft Fair and Products Fair, which runs on Viedma.