Bahía Bustamante, another option in the coast of Chubut

See map
Bahía Bustamante is a town of only 40 inhabitants located in the Chubut province near the town of Camarones.
There are different activities that can be performed depending on the season, weather and tides.
Navigation
This option is ideal for those who enjoy bird watching and other marine animals. It navigates the seagrass meadows of Caleta Malaspina and reaches the archipelago Vernacci, to approach the islands you can see sea lions, Magellanic penguins and seabirds such as cormorants and gulls. While navigating is also possible to see dolphins and orcas.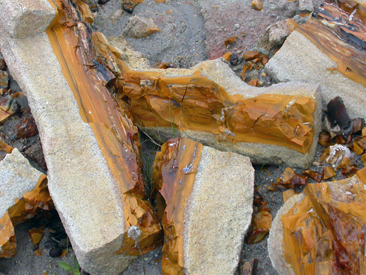 In the pretrified forest there are fossilized trees that lived 60 million years ago. Photo courtesy of Agencia Comodoro Turismo.
Peninsula
Gravina Peninsula comprises sandy beaches and when the tide is formed pools ideal for enjoying summer. When the tide is low you can cross to the island where lives a colony of Magellanic penguins.
The coasts of the peninsula are ideal for exploring on foot, horseback, bicycle or 4x4.
Petrified Forest
At 30 kilometers from Bahía Bustamante is the farm "Las Mercedes". In it you can visit the Petrified Forest "The Pyramid". The landscape resembles a lunar desert in which walks among fossilized trees that lived 60 million years ago and now turned into rock.
Algae
There are excursions to areas of harvesting seaweed to know more about this work, different species of algae and their properties and applications on the market. For example, from the algae glacilaria obtain the agar agar that is a natural gelling agent that does not require cold to solidify and is used in the food industry.
Farms
The farms in Bahía Bustamante are a must for those interested in enjoying a picnic and learn about the process of producing wool and mutton. August is the month of shearing so this is the ideal time to visit the farms.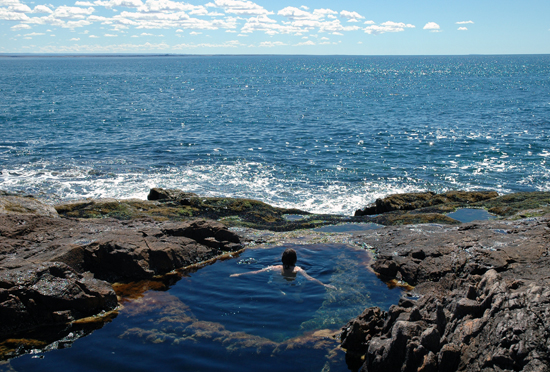 At low tides pools are ideal for enjoying in summer in Peninsula Gravina. Photo courtesy of Agencia Comodoro Turismo.
Source: www.bahiabustamante.com