Caviahue, sun and snow

See map
Caviahue visitors can be seduces with its beautiful summer afternoon, with snow in winter or taking baths all year.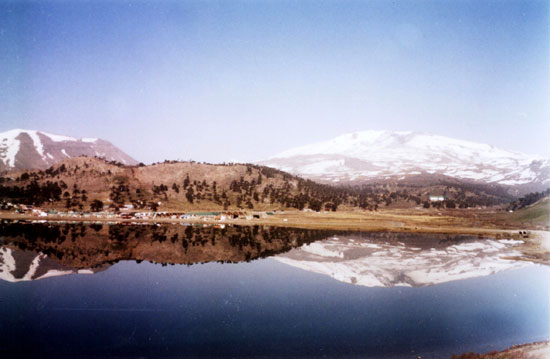 View of Caviahue at shores of the lake of the same name.
It is a place that has a thermal resort for those seeking relaxation and a ski resort with slopes for the whole family to enjoy.
Caviahue means "place of celebration and reunion" in mapcuhe language. Lying down beside a beautiful lake that bears its name, which they also call Agrio due to the large amount of sulfur that is in its waters.
It is also surrounded by forests of araucarias, streams, waterfalls and other natural attractions that can be known for example by trekking and photographic safaris.
Location
Caviahue is located 1600 meters above sea level in a narrow valley west of the Andes mountain range and south of the volcano Copahue. Nestled in a sheltered valley and surrounded by forests of ñires and pehuenes with wild flowers, this town is known for being close to paradise as an oasis in the Patagonian plateau.
Caviahue also serves thermal baths using waters of the lagoon from the crater of volcano Copahue, but has fewer options than in Copahue Thermal Baths.
Because of its location it has a particularly mild microclimate, lacking in strong winds.
Directions
To reach Caviahue from the capital of Neuquén you must travel 352 kilometers by National Route 22 and Provincial Routes 21 and 26, all paved. The nearest airport is located in the city of Neuquén.
Both Caviahue as Copahue are part of the Copahue Provintial Park. Both villages form the municipality Caviahue-Copahue that until March 9, 1999, the place had range of Commission of Public Works, but since the enactment of the 2273 law by the Legislature of Neuquén, Caviahue-Copahue was declared third category municipality.
In winter
The location is ideal to fully enjoy the mountain, as it have a ski resort with all amenities, highly recommended for alpine skiing, nordic skiing and snowboarding. On the other hand, there are sled dogs, snowmobiles, ATVs and an ice rink.
Caviahue also features a spa service. It is a system that is responsible for bringing water from the crater with all the volcanic properties, which enable services of whirlpool, mud, dipping, inhalation therapy, mask and facial beauty.
In summer
In summer Caviahue can be known through horseback riding and trekking to places with beautiful landscapes as the Salto del Agrio river or hike to Seven Falls, and photografic safaris to watch Patagonian flora and fauna, within which the Patagonian birds are a delight to the eye.
You can even make visits to the Mapuche communities and know their customs. They are nomadic seasonal so you can only visit them in spring and summer.
You can also practice sport fishing in the lagoons Achacosa, Escondida, El Rincón and Hualcupén, which offer good examples of rainbow trouts, brown trouts and perchs.