Snow and ski slopes in Caviahue, a ski resort for the whole family

See map
In winter, the snow becomes the star of Caviahue and the Mountain Integrated Center in its host.
This winter resort offers its guests slopes for alpine skiing, cross-country skiing, snowboarding, nordic skiing circuits, walks, excursions on sleds pulled by dogs, snowmobiles and snowtrack.
Because of its large gap, it has spectacular slopes for skiing off-piste. Mountain Integrated Center has 2 lifts of 1,500 meters extension with three tracks covering approximately 5400 meters slopes. A T-Bar of 1700 meters with 3 tracks covering 6000 skiing meters, plus 2 versions of 8,000 mts.
In the three tracks are 3 ski-lift of 200 meters each, one in the ski school and two with conection to tracks.
In relation to climate, the average annual snowy rainfall is 2.5 meters and the average winter temperature is -4 º to 11 º centigrades.
Season 2011
Low season: from June 17 to July 1st and from September 17 to October 2nd.
Mid Season: from July 30 to August 12 and from August 16 to September 16.
High season: from July 2nd to 29 and August 13 to 15.
High
Mid
Low

Adult

Minor

Adult

Minor

Adult

Minor

Day

$248

$198

$191

$153

$134

$107

Half Day

$211

$169

$158

$126

$110

$88

Three Days

$688

$551

$530

$424

$371

$297

Five Days

$1085

$868

$835

$668

$585

$468

Weekly

$1389

$1111

$1029

$823

$720

$576

Chairlift Ride

$72

$57

$72

$57

$72

$57
Comments: Minor up to 11 years inclusive. Featuring ID, 50% discount Loncopué and Caviahue inhabitants, 25% of the Neuquén and Río Negro Valley in the period from June 14 to 27 and September 22 to 30. Free over 70 years. Family Plan, a group from 5 members (parents and children). All prices are in argentine currency and are subject to change without notice.
Excellent skiing and snowboarding in Caviahue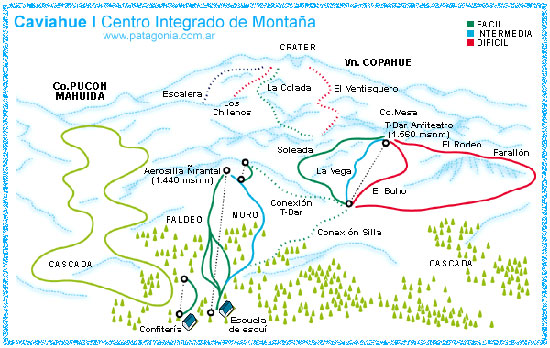 Ski and snowboard slopes in Caviahue.
The Center also has cross-country or nordic skiing slopes for about 32 kms. The ski has a predominant place in the center, but it is not the only thing you can do there. In Caviahue you can perform all activities related to snow that you imagine and more.
For those who do not want to ski they can walk on snowshoes. You can also, on a winter afternoon, go out to feel the icy wind as you travel the white landscape aboard a snowmobile. Or feel an inhabitant of the Arctic and let a sled driven by dogs drive you through forests and mountains.
In the walks you can enjoy the snowy araucarias landscape, passing waterfalls, lakes and lagoons up to mountain shelters and enjoy a delicious hot chocolate or a nice dinner with typical Patagonian dishes.
Similarly there is the possibility of hiking the volcano Copahue, in vehicle for snow, walks to the crater and down in different skiing tracks of 7,000 meters each.
The Center offers excursions to the Copahue's Baths in snowmobiles, with the inclusion of a thermal bath, accompanied by medical and paramedical and the alternative, for those who wish, to make the return on skis.
For little ones there is a Snow garden and nursery "Ositoy Hue". The ski instructors and baby-sisters will make them do their first steps in this sport.