Volcano Copahue, an unforgettable excursion

See map
Volcano's lagoon and crater
It starts on horseback from Copahue, walking 4 km from the edge of the Provincial Route 26. Then it runs alongside the Blanco stream and lagoons Las Mellizas to climb 925 meters further on the northeast slope of the volcano. (You can also reach the point where it begins the ascent by car).
As it rises, there is a splendid view of Lake Caviahue, surrounding lagoons, volcanoes of the Andes of Neuquén, La Dama Valley and the Villarrica Volcano (Chile).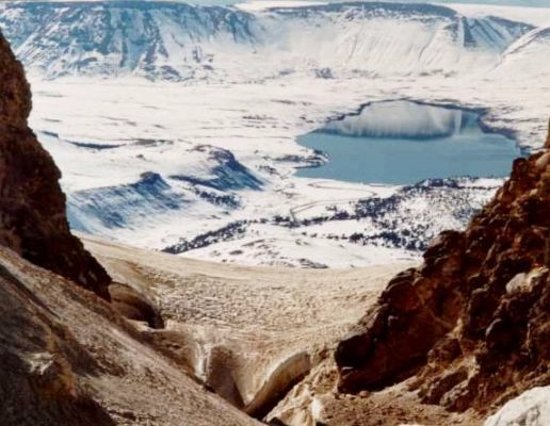 Vista del cráter del volcán Copahue. Photo courtesy of Dan from www.patagonia.com.ar aphoto album.
Along the way you pass through some patches of snow, being due to walk the last 100 meters. Groups must necessarily be guided by a local guide. On the slopes you can see the layers of volcanic ash and sand deposited by successive eruptions that the volcano did in its last eruption (2000).
When you reach the huge circle of the crater, with its glacier snow, the cliff walls strike you. Inward, and as much depth, it is perceived smoke, steam and a strong smell of sulfur.
The crater was originated as a result of postglacial volcanic activity and it is occupied by a lagoon of 2 to 3 hectares, fed by rainfall and meltwater. The hot water seeps the lagoon at temperatures ranging between 20 and 40 degrees and loads gas and minerals, giving also a high degree of acidity. The lake drains to the east giving rise to the Agrio river.
To complete the show, the bowels of the earth produce loud noises. In winter, the tour takes place aboard the vehicles tracked or snowtracks, totaling more excitement to the ride as they can ski down a path of more than 8 km off the track.
From Caviahue you can hire guided hikes to the crater of the volcano Copahue, you just have to have a fit and enthusiastic.