Lagoon Hualcupén and Mapuche communities

See map
From the town of Caviahue you can visit the lagoon Hualcupén, a place of unique beauty that stands out by being in a encased landscape. In the surrounding area are araucaria and beech forests, which along with the warm beach of volcanic sand and a cascade of melt water creates a natural attraction par excellence.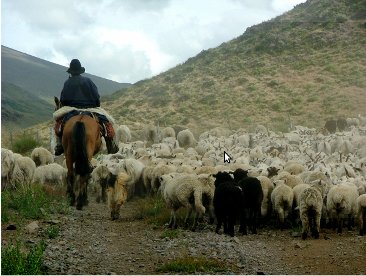 The transhumance of sheep in the lagoon Hualcupén area.
To get to it you must take the Provincial Route 26 in southeast direction, as heading Loncopué. You can arrive by bicycle, horseback, ATV, car or book excursions, always taking precautions, because the road can present many fords and water during the summer due to snowmelt. You should move about 5 kilometers to the sign indicating the access to the lagoon on the right. There you must turn right, cross the gate and drive 8 km to reach the shore of the lagoon.
The Hualcupén is located within land belonging to the Mapuche communities Millaín Currical and Guaiquillo, so for the access road you can observe the houses of the families living there during the summer. They come with transhumance and stay to make the veranada in the area, because their main economic activity is livestock, mainly goats. In summer the soil is very rich and suitable for animal growth, while in winter, families move to places with more benign weather and without snow to continue breeding their animals.
Besides knowing the lake, you can take guided tours to the communities, where you will learn about the culture of the same. There you can internalize about cultural events, music, crafts, and enjoy a rich "Patagonian goat" cooked in Chilean clay oven or at the stake.
The Hualcupén lagoon along with the lagoon Coliqueo become every summer at selected sites for a pleasant day in Caviahue. There you can practice sport activities such as fishing, canoeing and rowing, as well as resting on the shores of lake watching the landscape and making a barbecue or picnic.
Source and photo: Municipality of Caviahue-Copahue.