Botanical and Recreational Garden Park San Carlos

See map
In the city of Luis Piedrabuena it is a unique place to learn and discover the flora of the region and the province. It is about the Botanical Garden San Carlos, which was created in 2000 to preserve native and alien species in the area.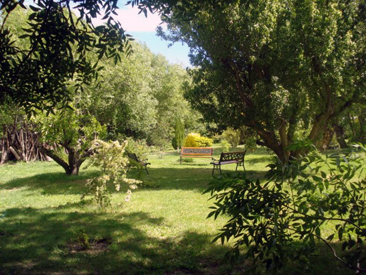 The Botanical Garden is a place of entertainment and knowledge.
The park is the only botanical garden in the province of Santa Cruz and the southernmost in the world, providing a Natural and Cultural Heritage at municipal and provincial level. In its 13415.91 m2 you can see a varied landscape of singular beauty and of great botanical specimens such as caulk, beech, sequoia, pehuen, oaks, fruit trees and a huge amount of flowers.
This botanical garden is located in the former farm San Carlos, from which it took its name, and has its origins in a youth meeting in 1996 where a group of high school students came up with the possibility of having a park itself. The initiative was endorsed by the community of Piedrabuena with signatures and contributions that funded the project. In November of the following year was made the Botanical Garden Park by a provincial decree and in 2008 it joined the Argentinean Network of Botanical Gardens.
Currently, in the Park you can learn from different historical periods from the natural elements that are in it, which underscores the great value of assets that it owns. In addition, the Botanical Gardens play a conservation role, represent a place of recreation for the community and are true "green rooms", offering a unique place to learn about the environment, plants and the care of it.
San Carlos Park is managed by the Association of Friends of Nature and in it free tours and educational programs are offered. They have a duration of 1 ½ hours and address various issues taking into account the interests of the visitors. Contact the Tourism Office of Piedrabuena for the timing of the visits.
Photos courtesy of Tourism Office of Piedrabuena.