Swans arrive to Piedrabuena

See map
The town of Piedra Buena invites tourists to enjoy watching swans on the shores of Santa Cruz river. In November you can see these beautiful animals prowling the river next to their young, a sight to be seen.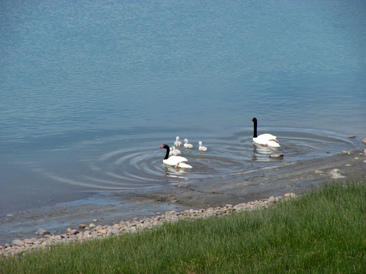 The family of black-necked swans entering in the river. Photo courtesy of Daniel Agulló, Piedrabuena Tourism Office.
Black-necked and Coscoroba swans come to this place for their reproductive stage in August. Therefore, it is normal to see the families of swans on the river walk in November, as shown in the picture.
Some features of the swans
These unique birds, reaching 112 cm long and 4 kg weight, provide a unique show cruising the waters of Santa Cruz river. Their large size makes them a little difficult to take off, so they must flap flush water for a long way to achieve it.
In terms of size, females are generally smaller than males. The color of the pigeons is pure white with gray spots on the back and leaden gray legs.
The swans feed primarily on submerged aquatic plants and leaves, tender stems, seeds, roots, insect larvae, mollusks and crustaceans.
Between August and October is the breeding season, in which the nest is built in water or in areas near the coast. Females can lay between 3 and 5 creamy white eggs and they incubate for 35 days. But both sexes build the nest and care for chicks.
The watching
From the various viewpoints of the boulevard along the coast of Piedra Buena, one can observe these birds of rare beauty, which carry their young on their backs.
This show is an ideal experience for the whole family and to stay in touch with nature, discovering the wide variety of resources that are in the environment. You should protect the environment and avoid invading the birds.