Perito Moreno Glacier: the eighth wonder of the world

See map
The Perito Moreno glacier is considered the eighth wonder of the world because of the spectacular view it offers.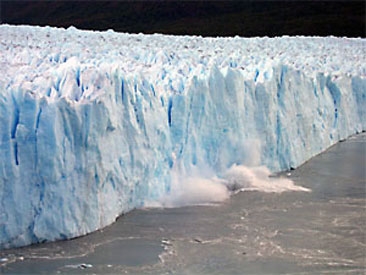 The ice forming the glacier.
The imposing mass of ice surrounded by endless forests and mountains is a spectacle that few want to miss. In fact, this place is, along with Puerto Madryn (Chubut) and Iguazu (Misiones), one of the most visited places in the country by foreigners and argentinian tourism.
You can reach the Glacier by land or by alternating phases of navigation on the route. If the visitor comes with his own vehicle, must travel about 80 km along Provincial Route No. 15 from El Calafate, it takes an hour and a half.
The Perito Moreno is one of the many glaciers that form the Los Glaciares National Park. All form the Patagonian Continental Ice (17,000-kilometers long) which is one of the most drinking water supplies in the world. Is that 90% of the world's freshwater is found in glacial areas and after Antarctica and Greenland, is this region of Argentina.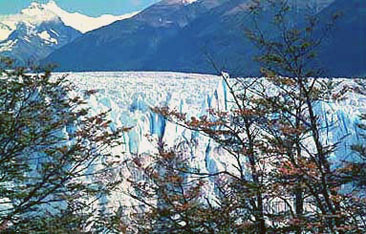 View of the glacier from the viewpoint.
It extends between 47 º and 51 º south latitur, reaches the Chilean fjords and in the east to the Argentine lakes. The Northern Ice Cap is located entirely in the neighboring Republic of Chile, whereas the Southern Patagonian Ice Cap is shared between the two nations.
This spring all the glaciers in the National Park, among which the glacier Perito Moreno is the most important. Visitors can get close to 300 or 400 meters from the glacial tongues or take a walk on ice or "minitrekking".
Surrounded by snow-capped peaks and forests of lengas and ñires, these ice cover about 195 km2, ie over the surface of the Federal Capital, which is in a distance of 2,800 km.
A halo of infinite peace on the wilderness, makes it very attractive for those who want to enjoy the fresh air and the sound of silence. Sound that disrupts only the movement of the glacier, which constantly gives the lake Argentino huge blocks of ice. These when detach from the socket ablation, fall into the Icebergs Channel producing a deep, shuddering noise.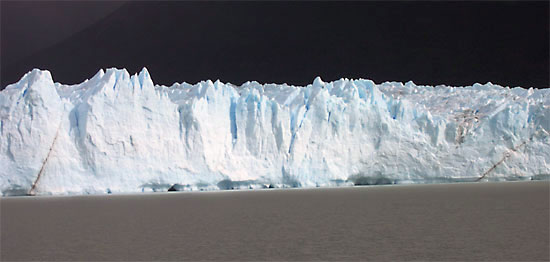 Perito Moreno Glacier.