Nant and Fall Waterfalls

See map
Kilometers traveled: 100
Duration: half day
Leaving from Esquel by National Route 259 and 3 km after passing the town of Trevelin, you have to take the road to the border with Chile, and a few km further on is the access to the "Nant y Fall Waterfalls" Provincial Reserve.
The meaning of this name comes from: the first word of Welsh origin which means stream, and the second of English origin, meaning waterfall or jump.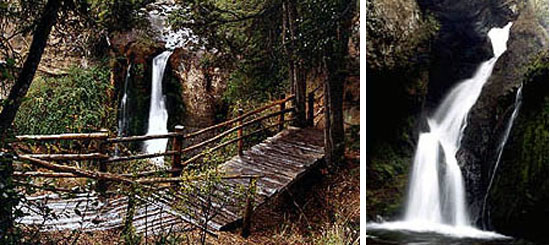 Nant and Fall Waterfalls name the same name Provincial Reserve.

Entering the access cover, four miles ahead (by a permanent ascent route) you arrive at the parking lot and ranger post. From there, and by nature trails well marked, you can see the different jumps or drops in water as cascades of the stream from viewpoints presets.
This site is also a good place for camping and recreation. Retake the tour route 259 to the Fish Culture Station, distant a few kilometers away, to find a place of farmed salmon.
Following the road towards the border with Chile, you will visit an organic farm before starting the return.