Las Grutas: warm waters and cliffs

See map
The Atlantic coast of Rio Negro has three important points and highlights, one being a highly popular resort, another being a center of commercial maritime fishing, and the third being a key support to economic activity in Patagonia. We are talking about Las Grutas, San Antonio Oeste and Puerto San Antonio Este, respectively.
Las Grutas
To Las Grutas arrive each year thousands of tourists willing to have fun, relax and enjoy. They are attracted by its beaches and cliffs of incredible beauty and the famous warm waters of this coast. Its climate is semiarid, with scarce rainfall and temperatures that in summer go from 14 to 30 degrees.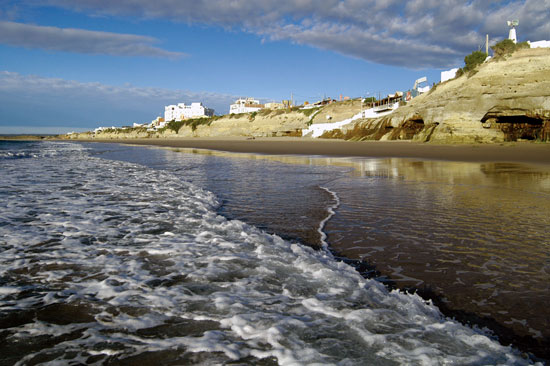 This resort so busy in Patagonia Argentina belongs, in fact, to the municipality of San Antonio Oeste, located 15 kilometers away. The city of 17,000 inhabitants was strong and important from empowerment, a few kilometers away, Port San Antonio East in 1983. Marine products and its trading, in addition to the hectic activity of the port, became the basis of its economic life.
It's worthy nothing that the Municipal Ejido of San Antonio Oeste comprises three centers: San Antonio Oeste, Puerto de San Antonio Este and Las Grutas. These places form a tourist circuit of excellence, with various attractions and areas of outstanding ecological value nationally and internationally, as the Reserve of the Bay San Antonio.
The San Matías Gulf
Las Grutas is located in the San Matías Gulf on the Atlantic coast of the Río Negro Province, Patagonia Argentina. You access from the north on National Route 3 or Provincial Route 251, from the south on National Route 3 and from the West (Middle Valley) on Provincial Route 2.
70 km from Las Grutas lies the Port of San Antonio Este, international port terminal of deepwater services and infrastructure. In the surrounding area there are vast pristine quiet beaches with sand, clams and snails.
Las Grutas has a stable population of about 2,500 inhabitants and an influx of 100,000 tourists during the high season (summer) that ranges from 15 December until February. During the mid/low season toruist flow decreases and the city offers special events during weekends as promotional outlets to increase tourist arrivals in these months.
The resort has an extensive service infrastructure. It has a range of over 17,000 accommodation places divided in hotels, residential complexes and villas, in addition to campings and shelters. It is noteworthy that during the month of January the city is filled so we recommend making reservations early.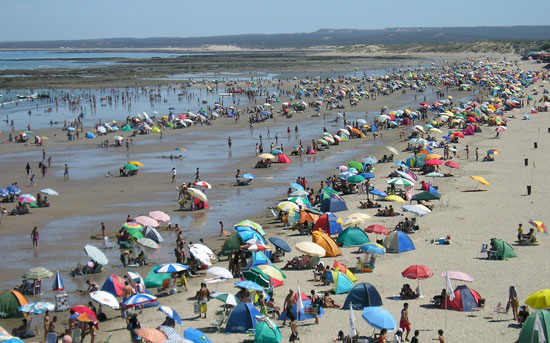 The wide beaches of Las Grutas welcome thousands of tourists every season.
As for the food service it has more than 20 restaurants located in the area that offer regional dishes such as tourist menus among which are: Salmon with Roquefort, Rabas fried, Cornalitos Cones, Breaded hake, Marinated seafood, casserole seafood, clams au gratin and vinaigrette, shrimp cocktail, octopus prepared in different ways, paella, chopped seafood, Provencal Mussels, Oysters, fried smelt, sole with cream, stuffed squid, crab soup, au gratin Scallops.
The supply of leisure compose the Casino with several alternative live shows running throughout the year, the Sports Center which are made level shows and sport activities, the Crafts Fair, street shows, children's games, candy, clubs and excursions fishing, diving and appreciation of nature nearby.