National Blue Gulf Festival

See map
Blue Gulf and Tide Festival in February.
The Nacional Blue Gulf Festival is an event that lasts about two weeks in which different sports, theater and film activities are perfomed, as well as the participation of major artists and the election of the National Blue Gulf Queen.
The event is one of the most anticipated by locals and tourists who invade these beaches during the months of January and February. It is always done on the third down in front of the Casino and with free admission for everyone.
The last day of the festival is held in conjunction with the Tide Festival in San Antonio Oeste, where there are musical shows, a swim comptetition and a fashion show.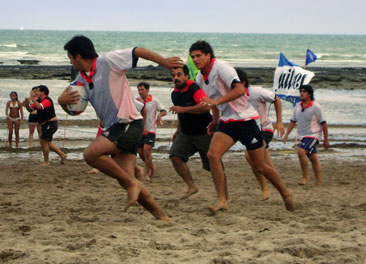 The International Rugby Seven is a classic of the festival and is performed at the 5th down.
Other activities taking place in the Gulf during the party are a sea blessing and salmon meal where the most trained filleters of the region make a demonstration of how to work the most precious commodity, support and pillar of the regional production. But it is not just about looking at, there is also tasting of the local and most representative cuisine of the San Matías Gulf.
During the weeks of the event you can visit the exhibitions on regional native flora in the exhibition hall of the First Down and you can see the Rugby Seven with the participation of clubs of Buenos Aires. The festival ends with the obligatory fireworks display reflected in the shimmering sea.