Kayaking and Windsurfing in Las Grutas

See map
Las Grutas resort is known worldwide not only because it is located very close to the best cities in Patagonia but for being a quiet warm-water resort.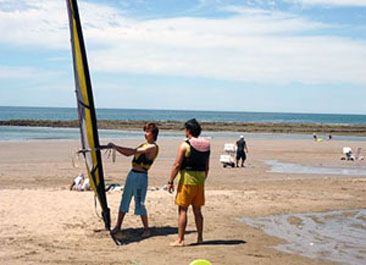 Instructions before going to the sea.
Surrounded by cliffs and unique places, Las Grutas also offers an ideal environment to practice adventure sports and especially those that can be performed at sea as kayaking and windsurfing. In the town there are stores that rent equipment and offer classes to perform them.
School Sea Kayaking and Windsurfing, in charged of two passionate of activities related to non-motorized navigation, Carina and Jorge, works all year round. In summer they offer practice classes and guided tours of windsurfing and even kayaking to tourists.
The outputs are always with an instructor for the beginners to feel more secure and on the other hand to be accompanied by someone to guide them and tell them about the peculiarities of the area.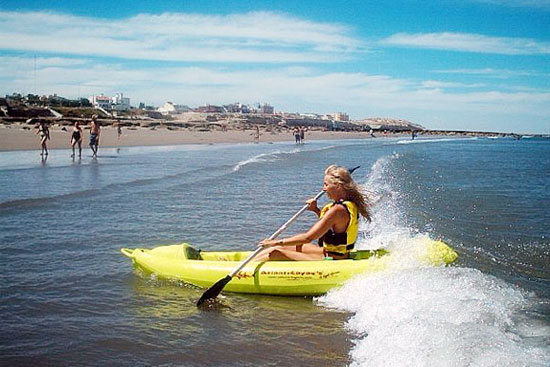 Drilling a small wave, a unique feeling. Photo courtesy of Jorge Beorlegui Etchandi.

It is also taught the principles of sailing, the parts of the boat, the safety rules to follow, the tools needed to go to sea, the interpretation of climate, the self rescue before a mishap and then it is all combined in practice that is done through short trips at first and then deeper in the sea in a complex state.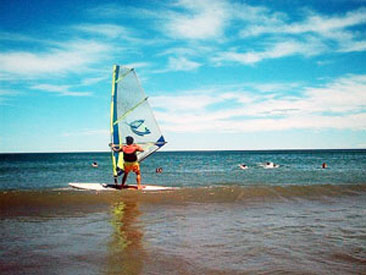 Testing the sea.
In Windsurfing specific issues are added as armed rigging, types of sailing and tables according to the conditions, principles of navigation driven by the wind and then it is done the practice of early operations.
Las Grutas's beaches are ideal for water sports, the waters are clean and there are huge cliffs. Therefore, Las Grutas is the best option to take a few days of relaxation, but also fun and lot of action.
These two sports are fun options for the first time and to enjoy the feeling of going through the sea of ​​end to end. Proposals for fun and relaxation besides taking the best memories and why not the best pictures of the Patagonian landscape.