San Antonio Bay: Banding wetland birds to preserve them

See map
The wetlands, site where shorebirds stop in their long journey, are the most productive ecosystems on the planet. However, year to year are considerably reduced as a result of man's hand.
There is concern by some environmental changes, especially in Patagonia, where you should be very careful with the settlement of certain undertakings by their negative consequences for the environment. Improper use and abuse of the natural sites are causes of ecosystem degradation.
Natural systems are of great biological value and used by migratory birds. What happens to birds affect the chain to other ecosystems in American mainland, and as a result of the extinction of wildlife automatically lead to the extinction of mankind.
However, recovery is possible by reversing the damage we cause, we just have to meet standards that protect our environment.
One way of protecting the environment is the campaign banding shorebirds carried out by the city San Antonio Oeste. The same is done in the Bay of San Antonio each year during the months of March and October with the following objectives: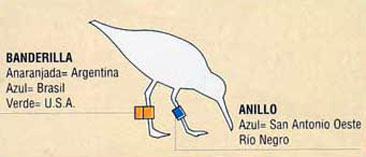 Understanding migration strategies: obtain information on body condition of birds, the proportion of ages, migration routes, replacement and identification of populations of Red Shorebirds and other species of shorebirds that use the Atlantic corridor.
Provide skills capture training with network of cannon and ringing. Establishment with personal and institutional links.
Dissemination and promotion to the community about the value of "Bay of San Antonio" as a wetland of international importance.
The campaign is an important event in which you can also participate. You can contact the telefax: (02934) 497468 to obtain more information.