Fishing from shore

See map
In all seasons, one of the major attractions of Las Grutas represents fishing. For those who are experts and those who are not so, here are some of advice and data to ensure the success of the mission.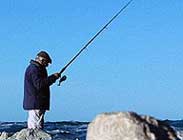 Fishing from the shore of Las Grutas.
In the breaking waves, where the water is foamy, is the largest concentration of fish because there is more oxygen in the water and because the fish find their food more easily thanks to the wave moving.
With the rising sea the task is simplified. The first two hours of incoming tide and the first two of the downpipe or outgoing should be maximized due to its effectiveness. On full moon days the bite is considered very poor.
Items for fishing
For fishing from the shore the equipment is simple: a front reel mounted on a reed according to the fishing practice. For the shark fishery are needed heavier equipment with reels and tanza suitable with steel toe that is left attached to the reef.
Species that can be captured
| | | |
| --- | --- | --- |
| Specie | Time | Bait |
| Silverside | all year | anchovy and beach worms |
| Sea Bass | May and June | beach worms |
| Bream | November to January | clams and anchovies |
| Sole | September | anchovies |
| Cazon | February to March | savorín and bream |
| Ray and a y Chucho | October to March | ------------------ |
| White Salmon, Cherni and Bat Fish | all year | ------------------ |
| Cabrilla | todo el año | carne roja |
You can make net fishing from shore and you can obtain specimen of Bream, cornalitos and silverside. You can also go boat fishing at the resort.